The Naval Sea Systems Command (NAVSEA) plans to issue a competitive solicitation for engineering support for the introduction, modernization, maintenance and upgrade of aircraft carrier and amphibious ship self-defense system (SSDS) combat systems (CS).
According to a Nov. 17 presolicitation notice posted to SAM.gov, this will cover SSDS combat system ship integration and test (SI&T) engineering support covering both new and in-service carriers and amphibious type ships.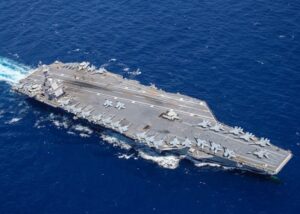 The ships covered under this work include Nimitz- and Ford-class aircraft carriers (CVNs), LHA and LHD amphibious assault ships, amphibious transport dock ships (LPDs) and Dock Landing Ships (LSDs).
NAVSEA said the expected solicitation will consist of cost-plus-fixed-fee, firm-fixed-price and cost-only contract line items covering requirements for fiscal years '24-'30.
The winning contractor will be responsible for "end-to-end engineering support for the integration and testing of combat system alterations, as well as supporting the installation of Command, Control, Communications, Computers, Cyber, and Intelligence (C5I) equipment for New Construction and In-Service Aircraft Carriers and Amphibious Class ships," the Navy notice said.
End-to-end CS SI&T covers test plan development, test procedure development, test execution, ship integration documentation, and oversight of integration efforts.
The contractor will also be responsible for making sure combat system alterations are successfully installed, tested and implemented on the ships.
"The Contractor is responsible for conducting CS SI&T work in alignment with the ship schedule and operational requirements," the notice said.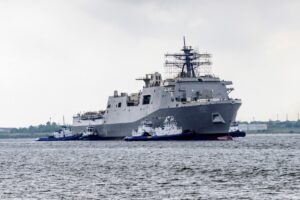 The chosen contractor will also be responsible for making sure upgrades and capabilities added to ships in-service are in alignment with the ship's class requirements documentation and future combat system plans.
The notice was for information purposes was not the solicitation itself or a request for proposals.
Previously, in July, an earlier version of the notice posted responses to industry questions in a draft Request For Proposals. The earlier version said the Navy intended to issue a competitive solicitation for this work in the fourth quarter of fiscal year 2022 covering FY '23-'29, with the award planned in the second quarter of FY '23.
That version also said that the timeline covers a base single year and six option years.