The Pentagon expects China to "basically complete modernization" of its military capabilities by 2035, according to a new report released Tuesday, to include potentially having a stockpile of 1,500 nuclear warheads by that time.
The department's latest "China Military Power" report notes Beijing's efforts to expand its nuclear stockpile and provides an assessment on a range of military modernization initiatives from shipbuilding to fielding new hypersonic weapon and space capabilities.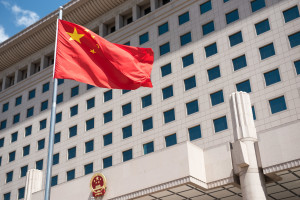 "This congressionally-mandated report serves as an authoritative assessment of DoD's pacing challenge and charts the current course of [China]'s military and security strategy. The report plays a vital role in informing our understanding of our pacing challenge and it shows again why the National Defense Strategy is laser focused on the right issues and on the operational concepts, capabilities and resources we need today and into the future," Air Force Brig. Gen. Patrick Ryder, the Pentagon's press secretary, told reporters during a briefing on Tuesday.
The report, which covers developments through the end of last year, states that China likely accelerated its nuclear expansion efforts in 2021 and estimates that Beijing now has over 400 operational nuclear warheads in its current stockpile.
"Over the next decade, [China] aims to modernize, diversify, and expand its nuclear forces. Compared to the [People's Liberation Army's] (PLA) nuclear modernization efforts a decade ago, current efforts exceed previous modernization attempts in both scale and complexity," officials write in the report.
Additionally, the Pentagon's report states that China has continued building three solid-fueled intercontinental ballistic missile (ICBM) silo fields, "which will cumulatively contain at least 300 new ICBM silos."
The Pentagon's version of the report released last year included the department's assessment that China could have an arsenal of at least 1,000 nuclear warheads by 2030, which would represent an increase of five times over the 200 warheads the country is estimated to maintain currently (Defense Daily, Nov. 3).
The U.S. has a stockpile of around 3,750 nuclear warheads as of September 2020, according to the State Department.
Ryder was asked during the briefing how the report's estimating that China may have over 1,500 nuclear weapons by 2035 could impact potential arms control discussions between the U.S. and Beijing in the near term.
"The challenge here is the more proliferation there is the more concerning it is, the more destabilizing to the region it is. So certainly we would want to ensure that from a global and regional stability standpoint that we can maintain an open dialogue to ensure there's transparency and that we understand what the intent is behind this," Ryder said.
An unclassified version of the new National Defense Strategy released in late October detailed the "pacing challenge" of China as the department's prime focus over the more "acute threat" presented by Russia, citing Beijing as "the most comprehensive and serious challenge to U.S. national security" (Defense Daily, Oct. 27).
"Having purportedly achieved its 2020 modernization goal, the PLA now sets its sights to 2027 with a goal to accelerate the integrated development of mechanization, informatization, and intelligentization of the PRC's armed forces. If realized, this 2027 objective could give the PLA capabilities to be a more credible military tool for the Chinese Communist Party to wield as it pursues Taiwan unification," officials wrote in Tuesday's report.
On China's navy, the report notes it operates the largest fleet in the world with approximately 340 ships and submarines.
In 2021 specifically, the report states that China commissioned its fourth Renhai-class cruiser and two Yushen-class amphibious assault ships.
Beijing's military is also estimated to maintain a fleet of 2,800 total aircraft, not including drones, of which 2,250 are combat aircraft.
"[China] is rapidly catching up to Western air forces and continues to modernize with the delivery of domestically built aircraft and a wide range of UAVs," officials write in the report.
The Pentagon's report also states that China views space superiority, to include "the ability to control the space-enabled information sphere and to deny adversaries their own space-based information gathering and communication capabilities, as critical components in conducting modern 'informatized warfare.'"
"The PLA also continues to acquire and develop a range of counter-space capabilities and related technologies, including kinetic-kill missiles, ground-based lasers, and orbiting space robots, as well as expanding space surveillance capabilities, which can monitor objects in space within their field of view and enable counter-space actions," officials write in the report.
The report also states that China's deployment of the new DF-17 hypersonic glide vehicle (HGV)-armed Medium-Range Ballistic Missile (MRBM) "will continue to transform the PLA's missile force."
"The system, fielded in 2020, is possibly intended to replace some older Short-Range Ballistic Missile (SRBM) units, according to PRC media, and is designed to strike foreign military bases and fleets in the Western Pacific, according to a PRC-based military expert," officials write in the report.