The State Department approved a potential $197 million Foreign Military Sale (FMS) to Egypt for 168 RIM-116C Rolling Airframe Missiles (RAM) Block 2 tactical missiles.
The Defense Security Cooperation Agency (DSCA) notified Congress of the sale on Tuesday.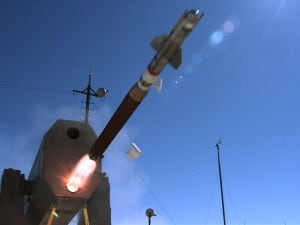 The sale includes the RAM missiles as well as RAM Guided Missile Round Pack Tri-Pack shipping and storage containers; technical and logistical support services and other related program support.
The primary contractor is Raytheon Technologies [RTX].
DSCA said this sale will support the Egyptian Navy's fast missile craft ships and "provide significantly enhanced area defense capabilities over Egypt's coastal areas and approaches to the Suez Canal."
The agency noted Egypt will not have any difficulty absorbing this sale equipment because its armed forces already operate previously procured RAM Block IA missiles.
Last September, the State Department approved a $55.3 million FMS of up to 51 RAM Block 2 tactical missiles to Japan (Defense Daily, Sept. 28, 2020).
Raytheon says the overall RAM guided missile is deployed in 11 countries on over 165 ships. The missile is designed to destroy anti-ship missiles.