The State Department approved a possible Foreign Military Sale (FMS) of five P-8A Poseidon patrol aircraft to Germany for $1.77 billion.
The Defense Security Cooperation Agency (DSCA) notified Congress of the sale on March 12.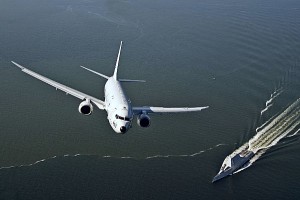 Germany's requested sale covers the five P-8As as well as nine Multifunctional Distribution System Joint Tactical Radio Systems 5 (MIDS JTRS 5), 12 LN-251 with Embedded Global Positioning Systems (GPS)/Inertial Navigations Systems (EGls), commercial engines; Tactical Open Mission Software (TOMS), Electro-Optical (EO) and Infrared MX-20HD, AN/ AAQ-2(V) I Acoustic System, AN/APY-10 radar, ALQ-240 Electronic Support Measures, NexGen Missile Warning Sensors, AN/PRC-117G Manpack radios include MPE-S type II with SAASM 3.7, Global Positioning Systems (GPS) 524D Precise Positioning System (PPS) for APY-10 Radar, AN/ALQ-213 Electronic Counter Measures;, and various other associated systems and logistics support.
The prime contractor for this sale is aircraft maker Boeing [BA].
DSCA noted Germany will use the P-8A Poseidons to replace its current fleet of Lockheed Martin [LMT] P-3C Orion aircraft that are reaching the end of their service lives and are planned to retire in 2024.
"The proposed sale will allow Germany to modernize and sustain its Maritime Surveillance Aircraft (MSA) capability for the next 30 years," DSCA said.
The agency also said this sale would improve Germany's capability to meet current and future threats "by providing critical capabilities to coalition maritime operations."
Implementing the sake will require assigning four U.S. government and four contractor representatives to Germany for two years to support equipment familiarization, training and supply support.
Last year, the Navy awarded Boeing a $1.55 billion modification to procure 18 Lot 11 P-8As for the U.S. Navy, New Zealand and South Korea (Defense Daily, March 31, 2020).