The Navy awarded Boeing [BA] a $1.55 billion modification on March 30 to procure 18 P-8A Poseidon maritime aircraft for the U.S. Navy, New Zealand, and South Korea.
This award specifically covers Lot 11 P-8As split among eight for the U.S. Navy, four for New Zealand, and six for South Korea.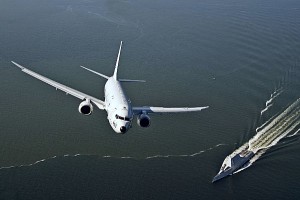 This award comes weeks after Boeing won an $800 million advanced acquisition modification to procure long lead materials to support this number of Lot 11 Poseidons for those customers (Defense Daily, March 9).
Last week, Assistant Secretary of the Navy for Research, Development and Acquisition James Geurts told reporters the service was trying to push out contracts to industry faster to help maintain workload and cashflow amid the COVID-19 pandemic, specifically citing the previous March 9 P-8A award (Defense Daily, March 25).
New Zealand originally signed a contract for four P-8As in July 2018 while South Korea ordered six in November 2018. Last year, a Navy official said the countries would start taking delivery of their Poseidon orders in 2022 (Defense Daily, May 7, 2019).
The South Korean and New Zealand aircraft are being procured via the Foreign Military Sales (FMS) process.
In a statement, Boeing noted the FMS customers will receive the same Poseidon variant as the U.S. Navy.
The Defense Department announcement noted this procurement also "includes a segregable effort consisting of unknown obsolescence for Lot 11, Class 1 change assessment and obsolescence monitoring as well as non-recurring engineering for the Republic of Korea."
Work will mostly occur in Seattle and is expected to be finished by October 2023.
Boeing said it expects the Royal New Zealand Air Force to start receiving aircraft in 2022 while the Republic of Korean Navy should start receiving them in 2023.
The award combines purchases for the three end users and is split between 52 percent or $812 million for South Korea, 34 percent of $523 million for New Zealand, and 14 percent or $220 million for the U.S. Navy.
A total of $220 million in fiscal year 2020 Navy aircraft procurement funds and $1.3 billion in Foreign Military sales were obligated at time of award.
The P-8A is primarily an anti-submarine warfare, anti-surface warfare and maritime surveillance assets replacing the older P-3 Orion aircraft.