The Navy on Friday awarded Huntington Ingalls Industries [HII] a $1.5 billion modification to procure the detail design and construction of Landing Platform Dock (LPD)-31 as it accelerates awards to deal with the COVID-19 pandemic.
The contract announcement noted this award covers the detail design and construction of LPD-31, the second San Antonio­-class LPD-17 Flight II ship. This will be the 15th ship in the LPD-17 amphibious transport dock class overall.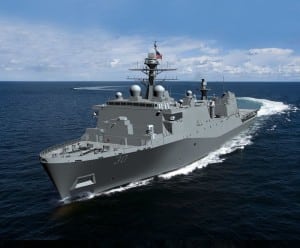 Work will mostly occur at HII's Ingalls Shipbuilding yard in Pascagoula, Miss. (82 percent), with work expected to be finished by February 2027.
A total of $532 million in fiscal years 2019 and 2020 shipbuilding funds was obligated at time of award and will not end at the end of this fiscal year.
The Navy's top acquisition official recently underscored accelerating the LPD is an example of how the service is pushing up contract awards to help the defense industrial base deal with the COVID-19 pandemic.
"My direction is not to do that at the expense of bad business deals so this is not move to the left but don't be good stewards of the taxpayer money. It is just move activities to the left. You'll see here in the next couple of days announcements on LPD contract awards, LCU contract awards…All of that then gets effort into the defense base, that gets that all ready to go," James Geurts told reporters during a phone roundtable on April 1.
"And then as individual suppliers and industrial operations deal with their local situation [with the virus] they can do it knowing that they've got work ready to go and then as soon as they're ready to go at their capacity, that work will be with them as we work through that," he added.
Geurts underscored the LPD contract is being awarded "several months earlier than we had planned it. A number of these other contracts have been several months earlier than we planned it."
Last week, Geurts said the Navy was accelerating contracts to help companies in the defense industrial base (Defense Daily, March 25).
This week he elaborated the Navy is accelerating activities that can be authorized and appropriated "to the left wherever possible" to accommodate expected pandemic-driven delays.
"The sooner we can get that in play in the system, the more flexibility we'll have to deal with some delay and disruption. So if I can get a ship order in, let's say LPD is going be two or three months earlier than we planned. That means they can get the orders out and absorb two to three months of disruption at the micro level and still deliver at the macro level."
Geurts argued this strategy ensures companies, employees, and lenders know the work is coming and sitting there all the way down the supply chain.
"So if I can get that LPD contract awarded several months early as we intend, that then can flow all the way through all the orders and can go through the supply chain, all those orders are backed up and ready so that we don't have exponential levels of delay and disruption through the system."
This gives companies more resiliency to deal with the pandemic-caused work disruptions that Geurts expects will hit different companies and sectors at different times as the virus spreads.
A longer planning and execution horizon means "they have a lot more resiliency to all the really tough challenges that are hitting people at different times and in different places. So that's the large idea we're going after here. It's really to enable us to create some resiliency."