The Army does not expect the ongoing coronavirus pandemic to have long-term delays on major weapon system development programs, officials told reporters Friday, while noting the service is working on mitigation strategies to keep imminent tests and evaluations on schedule.
Gen. Mike Murray, head of the modernization-focused Futures Command, and Bruce Jette, the Army's top acquisition official, did note that vehicle deliveries will be slowed down, while the service's restarted Bradley replacement program and planned fielding for its future augmented reality headset remain on track.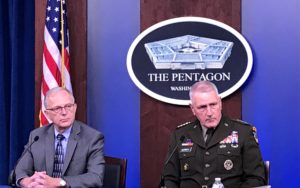 "With the mitigation tactics that we're working through, the underlying principle is about what do we need to do ensure the safety and health of not only our workforce but our industry partners as well, and keep things on track according to the timelines we've previously established. Bottom line is we're focused on getting things done that we said we'd get done," Murray said. "We're doing everything we possibly can to keep things on track. Right now, there may be small interruptions, but I'm really focused on the major milestones we have to hit to keep the overall programs on track."
Murray said Futures Command will have specific mitigation strategies for each of the Army's 31 signature modernization systems to determine adjustments required for near-term demos and milestone decisions that will ensure programs meet scheduled fielding dates.
"I am not even convinced there will be delays. It's not really figuring out alternative strategies, it's how do you mitigate the impacts. I'm not giving up on any of our timelines right now until we work through mitigation strategies and prove whether or not those will be viable," Murray said.
Murray noted that the restarted Optionally Manned Fighting Vehicle, as well as the recently downselected Future Attack Reconnaissance Aircraft and Future Long Range Assault Aircraft programs have no current setbacks.
For the Integrated Visual Augmentation System program, Murray said there may be an interruption to a planned soldier touchpoint this summer but said the first unit equipped date in 2021 is an 'immovable date' and adjustments will be made accordingly to ensure the Army meets the schedule.
Futures Command is also working through immediate mitigation strategies for two upcoming tests, the third flight test for Lockheed Martin's [LMT] Precision Strike Missile Offering at the end of April, and a limited user test for Northrop Grumman's [NOC] IBCS next-generation air and missile defense command system this spring. 
"I'm not ready to say today either one of those are slipping, but those are closer in and we're working through to keep them on schedule as best as we possibly can," Murray said. 
Jette said the Army is sticking with its current schedule for awarding contracts, noting the service doesn't expect the pandemic to have an impact on the planned release of Requests for Proposals (RFP) and gathering responses.
"The Army has been very carefully looking at our industrial base and our ability to maintain the programs, both for our continued readiness and continued modernization. In general, we are still remaining fairly close to being on track. It doesn't mean that individual programs and issues haven't arisen, but at this point we think in the long run that we can resolve any of the challenges that we have at hand," Jette said.
In the event production lines are impacted due to work stoppages, Jette said the Army may search for alternative sources for subcontractor parts or rearranging delivery schedules.
"We haven't had to go there, but we have anticipated some of the things that we may have to do," Jette said.