The Army on Wednesday detailed plans for its third network modernization capability drop, CAPSET 25, which will include inviting select vendors for technology demonstrations in September before awarding prototype deals in January 2022.
CAPSET 25 will focus on fielding technology for armor formations and bringing in satellite communications (SATCOM) management, 5G-enabled communications capabilities and data tools to support Joint All-Domain Command and Control initiatives, officials described during the latest network modernization industry day.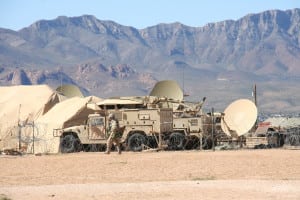 "If you look at [CAPSET] 25, it's really a benchmark. We've got some of these capabilities that are emerging. There are things that we know we can build in, but can we use it in a contested, congested environment," Col. Rob Ryan, acting director of the Network Cross-Functional, said Wednesday.
The Army is currently working through two-year capability drops to transform its tactical network, with officials noting that CAPSET 21 is about 50 percent completed with fielding and CAPSET 23, which has a focus on tools for Stryker brigades, will complete a critical design review by next May to lock in a final configuration before moving to procurement. 
Wednesday's technical exchange meeting with industry was intended to lay out initial plans and areas of interest for CAPSET 25, which will include prototyping and experimentation through FY '23, design reviews in FY '24 before moving into production and fielding from FY '25 through FY '26.
"Keep in mind as we discuss CAPSET 25, this is an iterative process. These design goals, they may change, they may mature. We may add some. Some may go away. That's based not only on operational feedback and technology maturity but also feedback from our industry partners with what you guys believe is achievable as we begin our design iteration for CAPSET 25," said Paul Mehney, spokesperson for Program Executive Office Command, Control & Communications-Tactical. 
Capability areas of interest for CAPSET 25 include going after automated network pass selection, integration of advanced network waveforms across the formation, full integration of network operations tools, automated cyber defense against machine learning-enabled attacks, distributed and disruptive electronic warfare sensors, improved hybrid tactical cloud and data fabric with increased protection, building up of the Expeditionary Mission Partner Environment.
Wayne Schoonveld from the Army's C5ISR Center also noted the Army is interested in building off CAPSET 23's assessment of required satellite constellations, specifically Low and Mid-Earth Orbit systems, with a focus on looking at SATCOM management tools.
"These are providing an interesting opportunity for the Army to get some really high speed, low latency communications. However, one of the challenges we see with CS25 is that it will be extremely difficult if we have to buy kit[s] to manage each of those constellations. So what we're looking at…is this concept of a next generation tactical terminal where we want to be able to unify the management of those constellations and use that bandwidth collectively," Schoonveld said. 
The Army is planning to release a formal request for white papers for CAPSET 25 ideas in mid-June, before inviting select vendors to participate in technology demonstrations in mid-September.
Officials will then select firms in early October who will receive Request for Proposals, which will be issued in early November, before awarding prototype contracts in early January.