CACI International [CACI] said Tuesday it has won a new task order worth potentially $514 million over five years to modernize network infrastructure across a range of U.S. Army installations.
The deal, awarded under the General Services Administration's (GSA) Alliant 2 contracting vehicle for government-wide information technology services, will specifically focus on upgrades to outside plant (OSP) infrastructure and facilities for at least 40 locations.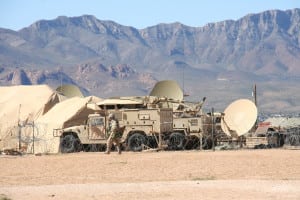 "CACI's understanding and unique OSP knowledge will ensure that this modernization maximizes the Army's current infrastructure, evolves to incorporate the latest network standards, and supports Army communications for software, data and analytics at scale as well as network security. Working with the Army, we will effectively deliver higher reliability and survivability supporting all missions with near-zero downtime," John Mengucci, president and CEO of CACI, said in a statement.
The task order includes a one-year base deal and four one-year options, and covers CACI's work to "engineer, furnish, install, and test a turnkey solution to upgrade the existing OSP infrastructure and facilities."
"CACI engineers, managers, and technicians will deliver enterprise technology to enhance capabilities and improve capacity needed for an underground fiber optic cable infrastructure required to support robust, reliable, high-speed voice, video and data networks for critical command and control systems," the company wrote in a statement.
GSA selected 61 companies for the Alliant 2 contracting vehicle in November 2017, with the firms competing for up to $50 billion in opportunities to provide customized IT services and solutions for various departments and agencies (Defense Daily, Nov. 20, 2017).
In August, CACI hired retired Army Maj. Gen Pete Gallagher as a new senior vice president at the company to lead the integration strategy for new technology solutions for national security customers.
Before Gallagher retired from the Army last year he served as the director of the Network Cross Functional Team, where he led the service's expansive effort to overhaul and modernize its tactical network.