ManTech [MANT] has received a new five-year, $132 million task order from the Army to continue providing full lifecycle software and systems engineering for the service's Distributed Common Ground System (DCGS-A) family of systems.
Under the deal, announced Tuesday, ManTech is tasked with building and integrating software as well as providing cyber security and configuration management services for DCGS-A and the Army's Software Engineering Center.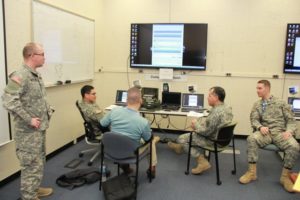 "[We] will advance warfighters' access to mission-critical intelligence at the tactical edge, securely, reliably and at speed," Matt Tait, president of ManTech's Mission Solutions and Services group, said in a statement. "By bringing digital to the mission, we help ensure the success and safety of American troops for the full range of ground and air support scenarios, whether on the battlefield, in special ops, or in-close monitoring of hostile forces."
DCGS-A is the Army's threat intelligence platform used to process and distribute operational information, and consists of hardware and software solutions with components from a team of providers. 
Prime contractors for DCGS-A include Lockheed Martin [LMT], General Dynamics [GD], ViaTech Systems and software provided by Palantir.
ManTech's support work within the new task order will include maintenance on the DCGS-A family of systems post-deployment as well as providing sustainment services for the Counterintelligence/Human Intelligence Automated Reporting and Collection System and Tactical Intelligence Ground Station.