Bell [TXT] and Boeing [BA] have received a $146 million deal to continue work on the Marine Corps' MV-22 Osprey modernization program to upgrade nine aircraft to the latest Block C configuration.
The deal is in support of the Common Configuration-Readiness and Modernization (CC-RAM) to extend the service life of the Marines' tiltrotor aircraft, and also includes planned maintenance work on an additional eight MV-22s.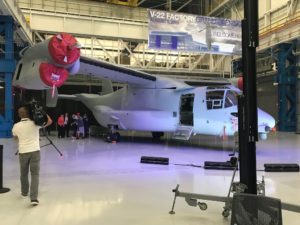 The upgrades are expected to be completed in March 2022 and will take place at Boeing's new $115 million facility outside of facility that serves as the hub for CC-RAM work.
The new facility, which opened in August, has already received five MV-22s that will be upgraded from the Block B to Block C configuration. Three of the five aircraft are testbeds that will help refine the production process for making the readiness upgrades, a Boeing official told reporters during a previous site visit. (Defense Daily, Aug. 1). 
Marine Corps officials have previously said CC-RAM will consolidate the number of MV-22 configurations from over 70 to just five, while extending the aircraft's service life by 10 to 15 years. 
Bell and Boeing recently said the V-22 Osprey has surpassed half-a-million flight hours across the Marine Corps' and Air Force's aircraft (Defense Daily, Oct. 8).