RIDLEY PARK, Pa. —Boeing [BA] on Thursday officially opened a new $115 million facility for the V-22 Osprey that will serve as the home for the Marine Corps' effort to improve readiness of the tiltrotor aircraft by upgrading platforms to a common Block C configuration.
The new factory, located just outside of Philadelphia, will also house fuselage production for new V-22's for the Marine Corps, Navy and Air Force as well as current international partner Japan.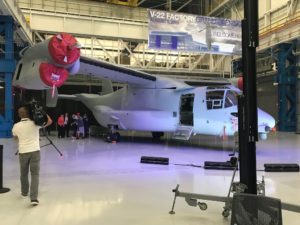 Boeing, which builds the V-22 in partnership with Bell [TXT], has already received five MV-22 Block B aircraft at its new facility from the Marine Corps that will go through the Common Configuration – Readiness and Modernization (CC-RAM) process to upgrade to the Block C modernized configuration. 
"We made our significant investment, $115 million, into this facility really to support CC-RAM," Kristin Houston, vice president of Boeing's tiltrotor programs, told reporters following an ribbon-cutting ceremony. "Our factory across the street where we were building fuselages would not have supported a full-scale V-22 with the fuselage, the wings and nacelles. So we repurposed this building and made the investment to support the CC-RAM program."
CC-RAM is intended to consolidate the number of Marine Corps V-22 configurations from over 70 to just five. 
John Peters, Boeing's acting director of V-22 operations, told reporters three of the five aircraft are testbeds that will help refine the production process for making the readiness upgrades.
"It's a lot of the unknown unknowns. So we're learning a lot on those aircraft prior to really being able to define what the production flow will be. As we incorporate these engineering change proposals and go through all of those deltas between the B and C configuration, we will get a better understanding of how long it will take us throughout each of those positions," Peter said.
The CC-RAM effort includes removing over 800 components from the MV-22 Block Bs to ready the aircraft for the modification process.
Lt. Gen. Steven Rudder, the Marine Corps' deputy commandant for aviation, told reporters CC-RAM will help extend current MV-22's service life by potentially 10 to 15 years while reaching a longstanding goal to improve the aircraft's overall readiness.
"The Block C variant, the latest variant that we're changing all these into, will have a lot higher readiness," Rudder said. "We hope to get 15 to 16 of them in the next couple of years. It will be a ramp up. One this year and we'll see what they can do next year."
Boeing and Bell officials have previously said they are working with the Marine Corps to improve the V-22's readiness by 10 to 12 percent, including having the first nacelle improvement kit ready for CC-RAM in 2021 (Defense Daily, June 19). 
Rudder noted that the new facility will take on both readiness goals for the Marine Corps, CC-RAM as well as improvements to the nacelles, an effort he said could help bring more international partners into the V-22 program.
"That is our goal. Until we get the first aircraft out and we get out nacelle improvement program into place, we won't really realize [10 to 12 percent] completely," Rudder said. "I envision there's going to be a lot of countries, including Japan and our Navy and Air Force partners, that will want to have the new nacelles."