The Missile Defense Agency (MDA) awarded Raytheon [RTN] a modification to increase an undefinitized contract action by $267 million to build 24 more Standard Missile-3 Block IIA missiles.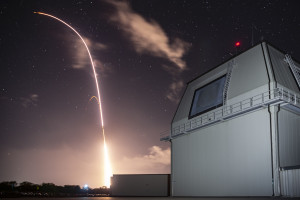 This modification, awarded Nov. 1,  increases contract line item 0014 value from $387 million to over $654 million. However, it lifts the total contract value from $1.2 billion to nearly $1.5 billion.
The contract notice said under this award, a "pacing items only" restriction is removed and Raytheon is now authorized for the full effort to manufacture, assemble, test, and deliver 20 SM-3 IIA missiles to the U.S. Navy and four similar missiles to Japan as a Foreign Military Sale (FMS).
Work will occur in Tuscon, Ariz., and Huntsville, Ala., and is expected to be finished by December 2022.
At award time fiscal year 2018 procurement funds of $209 million and $7.7 million in FMS were obligated.
The SM-3 IIA is a cooperative development program being jointly developed by the U.S. and Japan. It aims to travel faster and farther to intercept short, medium, and intermediate-range ballistic missiles.