A top Navy official said on Wednesday delays in recent Virginia-class attack submarine deliveries are due to the shipbuilders boosting production from one to two vessels per year.
The last five submarines were delivered late, but "the key thing there is when you look, we went from one per year to two," Rear Adm. David Goggins, Program Executive Officer Submarines, said at the annual Naval Submarine League symposium.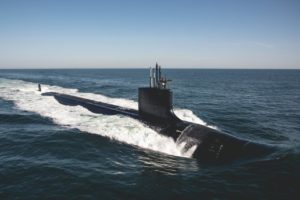 He said the submarines are built out of four super modules, with two built each at General Dynamics [GD] Electric Boat (GD EB) and two at Huntington Ingalls Industries' [HII] Newport News Shipbuilding.
GD EB and HII both build the submarines by each making certain parts of every boat but take turns building the reactor and performing final assembly.
"So from their module perspective, they have to deliver a module every six months. Now when you look at the entire fabrication…and you're at that cadence of two per year, every part of that assembly line must be on cadence," Goggins continued.
He said the Navy and builders have now learned if any step in the construction process gets out of cadence that will impact the final delivery, which is what happened.
"So the companies have put together a recovery plan. We have the metrics and the key thing is getting back to cadence across the entire production line."
Goggins said, "their plan now is to get back to cadence by the end of next year."
Also, at the end of this year, the Navy plans to sit down with the producers to go through the Block IV schedule and ensure the vessel construction gets back into synch and on schedule.
These statements came a week after the Navy accepted delivery of the eighth and final Block III Virginia-class boat almost nine months later than planned in the Navy's FY 2019 budget request documents (Defense Daily, Oct. 31).
"We've had some challenges lately, and I'm proud that we worked through to mitigate these challenges," Goggins added.
He underscored the first Virginia-class submarine took 84 months to complete, but over time the Navy has reduced that time to 72 and then 66 months.
"Now with Block IV submarines we challenge shipbuilders even further, with a contractual requirement of 60 months in our Block IV contract," Goggins said.
He also noted the Navy has been able to reduce the post-shakedown availability (PSA) time from initially over one year to six months. Now, the service is challenging itself to reduce the PSA further to three to four months.
This week, the Navy and the chairman of the House Armed Services Seapower and Projection Forces Subcommittee Joe Courtney (D-Conn.) indicated the Navy plans to buy nine Block V submarines in a multiyear contract, with an option for a 10th (Defense Daily, Nov. 5).
Goggins confirmed the Navy intends to award the contract before the end of this year.