The Navy and General Dynamics' [GD] Electric Boat (EB) have reached an agreement to buy nine to 10 Block V Virginia-class submarines in a multiyear contract to be awarded in the upcoming weeks.
A Monday statement from the chairman of the House Armed Services Seapower and Projection Forces Subcommittee Rep. Joe Courtney (D-Conn.) indicated the Navy plans to buy nine submarines with an option for a 10th.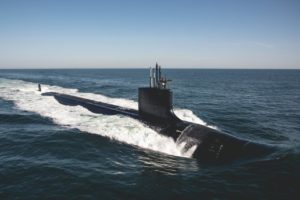 The Navy declined to substantiate submarine numbers or expected contract award values, but did confirm the agreement and upcoming contract award.
"The Navy has reached agreement on the Block V Virginia-class submarine contract and, by the end of the calendar year, the Navy intends to award these submarines under a multiyear contract that will enable stability in the industrial base and significant savings over annual procurements," Navy spokesman Capt. Danny Hernandez told Defense Daily via email.
"The multiyear contract will achieve significant savings, will include important lethality enhancements, and will provide critical stability to the industrial base," he added.
The deal appears to have fewer subs than the Navy previously planned in Block V. The Navy's FY '20 budget request documents said the program was negotiating for 10 Block V vessels from FY '19-'23 at two per year. The Navy also planned to have an option for a third vessel in the FY '20 budget that would start construction in FY '23, with time needed for long-lead time material procurement, to allow for up to 11 submarines.
In March, Assistant Secretary of the Navy for Research, Development and Acquisition James Geurts told Congress why the service was requesting almost $10 billion to buy three submarines.
While two Virginias were meant to be in the second year for the Block V multi-year procurement group and feature the Virginia Payload Module (VPM), the third would be funded in FY '20 but not start procurement until 2023 since it was outside the block buy and needed time for long lead procurement. The Navy decided to fully fund it in FY '20 versus over several years, Geurts said (Defense Daily, March 29).
At the time, Geurts also said adding the third submarine for FY '20 could act as a risk-reduction factor for the upcoming Columbia-class ballistic missile submarine (SSBN) by helping ramp up submarine construction workforce training and getting supplier base bills out of the way before Columbia work starts.
Courtney said the news that the Block V contract is in the final stretch of negotiations with a framework of minimally nine vessels "shows real progress in terms of getting a stable workload for this critical program."
"As recently as last Thursday, myself and Ranking Member Wittman met personally with the Secretary of the Navy to emphatically restate Congress's support for the president's budget request for two subs a year, as well as the Administration's request for an 11th submarine," the chairman continued.
Courtney noted while the final contract design is weeks away the Seapower subcommittee will keep advocating for a program to address the Navy's scheduled attack submarine shortfall in future years.
"If the Navy believes that the option for a 10th boat is the best way forward, then using the congressionally-mandated option in 2023 is the most prudent way to achieve that goal," he added.
Last year, Courtney and subcommittee Ranking Member Rob Wittman (R-Va.) pushed for a budget amendment that would move $1 billion to the defense appropriations bill for advanced procurement of three Virginias in FY '22 and 23, respectively, but it failed amid opposition from the Pentagon (Defense Daily, June 28, 2018).
Block V submarines will include various superiority improvements and the addition of the Virginia Payload Module (VPM) starting with the second vessel. The VPM extends the hull by 84 feet, allowing each submarine to carry four payload tubes designed to carry up to seven Tomahawk cruise missiles for a total of 28 Tomahawks over current capabilities. VPM submarines are each expected to be able to hold up to 65 total Tomahawks or similar weapons.
The VPM is meant to compensate for the planned retirement of four Ohio-class SSGN guided missile submarines, each equipped with 24 vertical launch tubes carrying up to seven missiles each. Eventually, the Navy plans for 22 Virginia-class Block V vessels with VPM to carry about as many missiles as the four SSGNs currently do.
In March, GD EB was awarded a $2 billion contract for additional material for FY '19-'23 submarines (Defense Daily, March 19).
In July, GD EB awarded BAE Systems a follow-on contract to produce 28 VPM payload tubes for the Block V vessels, consisting of seven sets of four tubes each for each Block V submarine (Defense Daily, July 25). That came after a 2018 award from GD directed BAE to build eight tubes for SSN-804 and 805 (Defense Daily, June 5, 2018).
Last month, GD EB won a $434 million Navy contract for lead yard support on the Virginia-class boats to maintain, update, and support the submarine design with technology insertion through construction and post-shakedown availability periods (Defense Daily, Oct. 14).
The Virginia-class boats are built jointly by GD EB in Connecticut and Huntington Ingalls Industries' [HII] Newport News Shipbuilding in Virginia. Each company builds certain parts of each boat while they take turns building the reactor and performing final assembly.