Pentagon officials are pushing for increased public-private partnerships on artificial intelligence projects as industry continues to outpace the department in technology development and a new report details China's effort to surpass the U.S. in the AI space.
Several DoD and industry officials spoke Tuesday at a National Security Commission on Artificial Intelligence (NSCAI) event of a need to bring more transparency to the military's AI approach to better collaborate with industry on future projects.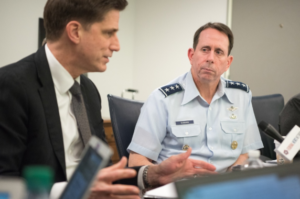 "Some in the private sector have raised concerns on working on AI with the United States military. Unlike some parts of the world, American corporations have a choice in who they work with. That is the virtue of our free enterprise system," Defense Secretary Mark Esper said during the event. "But let me be clear, the question is not whether AI will be used by militaries around the world. It will be. The real question is whether we let authoritarian governments dominate AI and, by extension, the battlefield."
The NSCAI event followed a report the group submitted to Congress on Monday that detailed the likelihood of DoD falling behind China in AI if the department did not increase research and development spending and harness industry's technological progress.
The Pentagon faced an early challenge with industry participation on AI when Google [GOOG] decided to not renew its contract for work on the Project Maven effort, which looked to develop an AI tool to process data from full-motion video and cut down on the work of human intelligence analysts, after facing pushback from employees about the company's tools being used for an AI drone imaging effort.
At Tuesday's event, Lt. Gen. Jack Shanahan, who led Project Maven and now heads the new Joint Artificial Intelligence Center, was joined on stage with a senior Google executive, with both agreeing the department needed to foster partnerships with technology companies to advance its AI efforts.
"We're playing perpetual catch-up. And some employees in the tech industry see no compelling reason to work with the Department of Defense. And even those that want to work with DoD, which I say is far more than sometimes is portrayed, we don't make it easy for them," Shanahan said. "We can never attain the vision outlined in the commission's report without industry and academia working with us in an equal partnership. There's too much at stake to do otherwise."
Shanahan described the relationship between his department and industry, including Silicon Valley, as "a little frayed," citing general mistrust and a mismatched operating tempo between the two groups. He added he believes DoD "lost the narrative" with Project Maven, but called it a "canary in the coal mine" that forced the department to rethink its AI messaging strategy for future work.
Kent Walker, Google's senior vice president for global affairs, reiterated the company plans to continue working with DoD, while not on weapons projects, and said the Project Maven decision was used to spur an internal discussion in AI principles.
"With regard to the more general question of national security and our engagement in the Maven project, it is an area where it's right that we decided to press the reset button until we had an opportunity to develop our own set of AI principles and our own work in regard to internal standards and review processes," Walker said. "But that was a decision focused on a discrete contract not a broader statement about our willingness or our history of working with the Department of Defense and the National Security Agency."
Walker said Google is currently working with JAIC on several initiatives, including cyber security and business automation, as well as with DARPA on "fundamental projects to ensure the robustness of AI."
"We are eager to do more. We are pursuing actively additional certifications that will allow us to more fully engage across a range of these different topic areas," Walker said. "I'd be lying if I told you all of our employees have an identical view on a lot of hard issues. They don't. But in some ways that debate and discussion is a positive as well as a negative."