The Pentagon's Joint Artificial Intelligence Center (JAIC) is soliciting information on industry's potential solutions to bolster the capabilities of its new automated AI workflow platform, to include opportunities for scaling up and operationalizing the system for tactical environments.
A new Request for Information notice released Monday details JAIC's areas of interest for enhancing the "JCF Cloud Neutral," or JCN, platform which is part of the organization's larger Joint Common Foundation (JCF) development platform.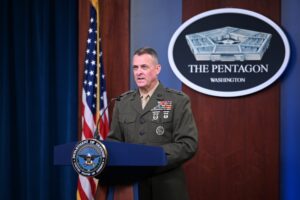 "The current implementation of the JCN provides a strong, basic foundation for starting to automate the DoD's AI activities. However, there are many areas where the JCN can be extended and enhanced to provide more capabilities, to be easier to use, and easier to operate. In addition, there is work to be done in scaling JCN capacity," the JAIC writes in the RFI.
The JCN is designed to operate across different Pentagon cloud environments, to provide users with the ability to create and operate "AI pipelines" that "automate most steps of the workflow, speeding up the AI development process, reducing human errors, and facilitating the faster authorization of AI products for operational use," according to the JAIC.
To scale up the JCN, the JAIC said it is interested in the ability to fully automate the onboarding of customers onto the platform and providing advanced tools to let users more easily manage and monitor their projects.
Growing the JCN will also require ensuring the platform can operate on new cloud computing environments as they become available and JAIC said it's also interested in developing a "micro version" of the platform that can be deployed in operational and tactical environments.
JAIC said it's interested in further developing and enhancing JCN's automation services, to include building out more advanced continuous integration and deployment pipelines and improving cyber security with new "zero trust" capabilities.
The larger JCF reached Initial Operational Capability last March, as JAIC looks to use the tool for broad enablement of new algorithms and models for projects across the department (Defense Daily, March 23 2021).
Deloitte was awarded a four-year, $106 million deal in August 2020 to design JCF, which serves as a cloud-based AI environment that different DoD entities can use to build on algorithms and work on new projects (Defense Daily, Aug. 14 2020).