The director of the Pentagon's Joint Artificial Intelligence Center (JIAC) said Tuesday the organization's common AI development platform has reached Initial Operating Capability, as the department looks to use the tool for "broad enablement" of new algorithms and models.
Marine Lt. Gen Michael Groen, the leader of JAIC, said there are already several development efforts utilizing the new Joint Common Foundation (JCF) with plans to do monthly block upgrades to the platforms in the move toward Full Operational Capability.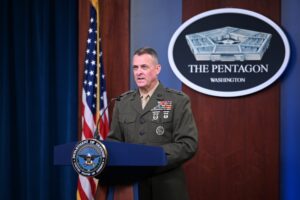 "As more and more flowers are blooming across the department, more and more elements across the services and agencies want to get involved in an AI journey, they see the problems they're having with their data and want to make better data-driven decisions. The first thing they need to find is a platform," Groen said during a virtual NDIA event on AI. "The Joint Common Foundation is our DevSecOps platform that we built, as the JAIC, to allow users from across the department to find a home to start their AI journey."
Deloitte was awarded a four-year, $106 million deal last August to design JCF, which serves as a cloud-based AI environment that different DoD entities can use to build on algorithms and work on new projects (Defense Daily, Aug. 14 2020).
"JCF is live. We have the tools. We're starting to develop. We're starting to host data. We're starting to host algorithms," Groen said. "Every month we want to add more services, more capacity, more capability to the JCF."
Groen said he sees JCF working alongside service-specific efforts, such as the Air Force's PlatformOne, to "stitch together these development platforms into a fabric of platforms."
"We recognize that the JCF is one of those platforms that creates a development environment. We think that the market that we especially serve through the JCF is those users that don't have access to other service platforms or otherwise," Groen said.