The leaders of the National Security Commission on Artificial Intelligence (NSCAI) told lawmakers Friday the Pentagon will likely require new acquisition authorities tailored for software procurement to stay ahead of China in the AI technology competition.
Eric Schmidt, chairman of the commission and former CEO of Google [GOOGL], specifically said the department's recently established 'software pathway' to enable more agile acquisition is "helpful, but it's not sufficient."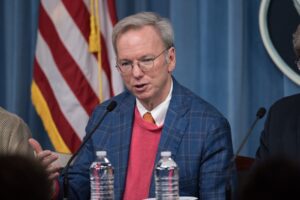 "I do know many, many software companies that want to work with the government, and in particular with the DoD, and they cannot find a corresponding customer, or user, or buyer or someone that can work with them," Schmidt said during a House Armed Service Committee cyber panel and House Oversight & Reform Subcommittee on National Security joint hearing on NSCAI's newly submitted final report. "The regulations are essentially antithetical to prioritizing AI. They're built around large weapon systems of a hardware kind and the real strength of our nation will come from the strength of our software and AI activities."
Schmidt and Bob Work, an NSCAI co-chair and the former deputy secretary of defense, told lawmakers that new authorities would ensure the Pentagon is able to more rapidly integrate new capabilities to meet the report's goal for the department to be "AI-ready" by 2025.
"The commission fears that our armed forces will lose their competitive military technical advantage within the next decade if they do not accelerate the adoption of AI across all their military missions," Work said. "The department has to expand the use of specialized acquisition pathways and contracting authorities to source and deliver the best AI. Software and algorithms are just a different kettle of fish than ships, airplanes, missiles, etc. We have to come up with ways that are specific to get those algorithms and models developed and into the hands of our warfighters."
NSCAI's final report, which was submitted to the White House and Congress on March 1 after two years of work, includes recommendations for the U.S. to double AI research and development funding annually to reach $32 billion per year by fiscal year 2026 as well as boosting microelectronics funding by around $30 billion over the next five years (Defense Daily, Feb. 22).