The Navy's latest 30-year shipbuilding plan, released on April 20, presents the service's arguments for decommissioning more in-service ships beyond previous years' planned reductions, including several more Littoral Combat Ships (LCSs) and all the remaining cruisers.
The Navy's initial overview documents for the fiscal year 2023 budget request revealed plans to retire 24 ships in FY '23 to save $3.6 billion over the five year Future Years Defense Program (FYDP) including nine
Freedom-variant LCSs, five Ticonderoga-class cruisers, four Whidbey Island/Harpers Ferry-class dock landing ships, two submarines, two oilers, and two Expeditionary Transfer Dock ships (ESD) (Defense Daily, March 28).
Now the shipbuilding plan provides more details on Navy plans to retire these ships and specific ships set to be inactivated over the course of the next five-year Future Years Defense Program (FYDP).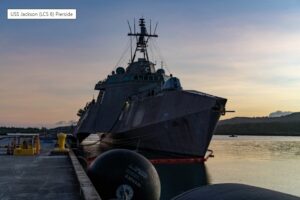 The FY '23 budget request "includes difficult decisions to decommission 11 additional in-service platforms in FY 2023 beyond the 13 ship reductions planned in previous budget cycles, for a total of 24 ships in FY2023. This decision frees up additional resources for shipbuilding and other priorities including manpower requirements," the shipbuilding plan said.
Regarding the five cruisers, the Navy assessed "the Department is better supported by investing in warfighting readiness, capabilities or capacity other than those of these legacy platforms."
While Ticonderoga-class cruisers have been the Navy's "premier air defense command and control platforms" for over 30 years and have significant vertical launch system missile capability, the service said the mission has been transitioning to Flight III Arleigh Burke-class destroyers (DDGs). The Navy argued both the age and the poor material conditions of cruisers limit their missile capabilities.
"CGs on average are 35 years old and there would be little return on investment in maintaining these ships given their poor reliability, affordability, and lethality. The ships have a large vertical launch capacity; however, the substantial cost of repairing the poor material condition of these ships due to their age, and ongoing concerns with overall legacy sensor, and HM&E system reliability, outweighs the potential warfighting contributions of these platforms over their limited remaining service life," the document added.
The Navy is also looking to divest of nine relatively new Freedom-variant LCSs due to the cost of fixing the combining gear of delivered ships as well as the Navy canceling the anti-submarine warfare (ASW) mission package because it had "huge challenges," Rear Adm. John Gumbleton, Deputy Assistant Secretary of the Navy for Budget, told reporters in March.
The LCSs were expected to have service lives of 25 years.
The shipbuilding plan said the FY '23 budget request focuses the LCSs on mine countermeasures (MCM) and surface warfare (SUW) mission, with 15 Independence-variant LCSs dedicated to MCM and six Freedom-variant LCSs will be dedicated to SUW work.
"The ASW Mission Package (MP) is no longer being pursued due to technical challenges, and the forthcoming introduction of FFG 62 as a highly capable ASW platform. Consequently, eight Freedom Class ships are planned for decommissioning in FY2023 which correlate with the 8 ASW MPs. LCS-3 is also decommissioned as it remains a non-deploying test ship that is no longer needed given the termination of the ASW MP," the plan said.
The Navy also argued that continuing to retain LCS-3 "imposes significant cost to upgrade it to a common configuration (including HM&E, structural, cooling and other upgrades) and capability with the rest of the fleet. Decommissioning allows for investments in higher priority capability and capacity."
Beyond the 24 retirements planned for FY '23, the shipbuilding plan said the Navy expects to inactivate the USS Jackson (LCS-6) and USS Montgomery (LCS-8) in FY 2024. Both Independence-variant ships were built by Austal USA in Mobile, Ala. The Navy commissioned LCS-6 in 2015 (Defense Daily, Dec. 4, 2015) and LCS-8 in 2016 (Defense Daily, Sept. 9, 2016).
Regarding cruisers, the Navy plans to decommission the full remaining cruiser fleet by the end of FY '27, including ships that are supposed to be extended to 35 years of service life.
Specifically, in FY '24 the Navy plans to retire the USS Antietam (CG-54), Leyte Gulf (CG-55) and Shiloh (CG-67) after 37, 37, and 32 years of service, respectively.
FY '25 would then see the retirement of the USS Philippine Sea (CG-58), Normandy (CG-60), and Lake Erie (CG-70). In FY '26 the Navy would retire the USS Princeton (CG-59), Chancellorsville (CG-62), Cowpens (CG-63), and Gettysburg (CG-64).
The FY '27 retirements include the USS Chosin (CG-65) and Cape St. George (CG-71).
The Navy previously planned to modernize 11 of the remaining 22 cruisers to keep them operational into the 2030s, but now the service argued it is too expensive and the money is better spent elsewhere than modernizing old cruisers where the work has taken longer than previously thought.
A prime example is the planned retirement of USS Vicksburg (CG-69) even though it started modernization work two years ago.
BAE Systems won a $175 million contract in 2020 to conduct FY '20 modernization work on Vicksburg, covering maintenance, modernization and repair. That contract work was expected to be finished by March 2021 (Defense Daily, Jan. 3, 2020).
Vice Adm. Scott Conn, Deputy Chief of Naval Operations for Warfighting Requirements and Capabilities, N9, told reporters during a reporter roundtable on April 20 he is skeptical whether the remaining cruiser modernizations will actually be completed, given various difficulties in the process.
"It's a realization that we have concern whether it will work. Gettysburg did deliver – I'm looking to see that ship get actually underway I think later on this year. Vicksburg has got a date, we'll see if she can make that date," Conn said.
Conn said all of these ships are over 30 years old and it comes down to "whether we want to continue to pour resources into them from a modernization perspective when only one of the five is actually delivered…Congress may not be happy, they may push back."
He added that there is concern at the waterfront and he visited CG-69 last week.
"They got a lot of stuff done and they have a long way to go. So it's just part of our 'get real' perspective in the Navy in terms of assessing where we are and is the investments we continue to make on these ships going to give us a return from a warfighting capability perspective."
When asked if that means Vicksburg, which is slated for inactivation in FY '23, could be extended if BAE Systems can finish the work on time, Conn replied that "nothing is carved into stone by the hand of God, it's all on paper and future decisions – there are people that can change it."