The Navy might decide to keep some Nimitz-class aircraft carriers in the fleet longer than previously planned, two service officials said Wednesday.
"We actually are doing a study right now on what life is left in the
Nimitz-class carriers and if we can get it extended enough to do another deployment on [the USS Nimitz (CVN-68) or Dwight D. Eisenhower (CVN-69)], the first couple of the Nimitz-class," Jay Stefany, Performing the Duties of Assistant Secretary of the Navy for Research, Development and Acquisition, told reporters during a telephone roundtable on April 20.
"I don't know when that's due to be reported out, but that is part of our [Program Objective Memorandum] '24 efforts that we're working on now is how that would play out as far as potentially extending at least a couple of the first Nimitzs," Stefany added.
This is in contrast to the Navy's FY 2023 Budget Highlights book that said the service was planning to not extend the life of CVN-68 by one more year because it would cost over $300 million "for a small return on investment" (Defense Daily, April 18).
Vice Adm. Scott Conn, Deputy Chief of Naval Operations for Warfighting Requirements and Capabilities, N9, explained this as "Nimitz was supposed to go into a late fiscal year '23 avail, where the extension could have been done. Bottom line is we will revisit Nimitz as part of the FY '24 shipbuilding plan."
According to the Navy's 30-year long-term shipbuilding plan released on Wednesday, the Navy is currently planning to retire CVN-68 in FY 2025 and CVN-69 in FY '27.
In 2020, Navy officials first said they were looking at extending the lives of some of the Nimitz-class carriers potentially to 52 to 55 total years (Defense Daily, Sept. 17, 2020).
Under the FY '23 shipbuilding plan, CVN-68 will be replaced by the future USS John F. Kennedy (CVN-79) the year it goes out of service but the future USS Enterprise (CVN-80) will not enter service in time to replace CVN-69 in 2027. CVN-80 is expected to be commissioned in 2028. Under current plans without carrier extensions, the Navy's carrier force would lower to 10 in FY '27 before rising back to 11 in FY '28.
Commenting on the drop in carrier numbers, Conn said there is "not a whole lot I can do about it at this point."
However, he said "in terms of any extension to the existing Nimitz-class carriers is pre-decisional. There are questions based on real world events, does it make sense, based on the number of planned carriers we may have in maintenance in certain years, it may make sense and may be worth a return on investment getting another year or more from the carriers that we have."
The long-term shipbuilding plan is divided into three options, with two assuming no increase in funding over inflation and a third that includes $75 billion in real growth after the five-year Future Years Defense Program (FYDP) in constant FY '22 dollars.
The plans are divided into the current FYDP, then they branch into three alternatives starting with the next FYDP called a transition period followed by the "Future Force Design" running from FY '33 to '52.
The first two plans have the Navy buying only one more Ford-class carrier in the transition period in FY '28. However, the third alternative shows the service procuring a second carrier in FY '32.
The first two plans also assume the Navy will buy carriers at five-year centers, or five years apart, while the alternative three with boosted funding assumes buying them with four-year centers. In 2019, CVN-80 and the future USS Doris Miller (CVN-81) were purchased at the same time, called a two-ship buy, allowing shorter procurement centers of four years between ships. The scheme is expected to save $4 billion over buying them separately (Defense Daily, Jan. 31, 2019).
The report noted that the Navy may repeat this two-ship at once procurement for the next two carriers.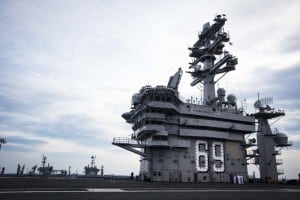 "A decision on CVN 82/83 two-ship buy is required no later than FY25 and will be evaluated during upcoming force structure and industrial base studies. The Department is reviewing Large and Small Surface Combatant and Attack Submarine procurement quantities in FY 2028 – 2032," the document said.
Conn said that "as part of this shipbuilding plan the carriers were factored on five-year centers. By around FY '25 when we have the next decision to do a two-ship carrier buy, that's when this five-year center, if it's going to change, that's when it's going to change."
Stefany said the Nimitz-class carriers were historically bought five or six years apart when procured separately and four years apart when bought in two-ship buys.
He said in this plan "we put five year centers, assuming they'd be bought separately, but when we get to that CVN-82/83 decision point, we'll revisit and see if we can buy…those two ships at least four years apart and maybe the next two like that, which would then increase the number of ships in the inventory, which would then keep us at least 10 [for the next 30 years]."
If the Navy does not buy the carriers at that faster rate, under the first two non-boosted funding plans the carrier force drops to nine carriers for several years in the 2040s-2050s. Even under the third plan with increased funding and four-year centers, the Navy drops down to nine carriers for one year in FY '48.
Conn admitted the drop in numbers but said "that's pretty far out there."