The Navy accepted delivery of the USNS John Lewis (T-AO 205), the first ship in a new class of fleet replenishment oilers on July 26.
T-AO 205 previously finished acceptance trials in April, which included in-port and at-sea demonstration with the Navy's Board of Inspection and Survey (INSURV) to assess ship systems and readiness before delivery (Defense Daily, May 2).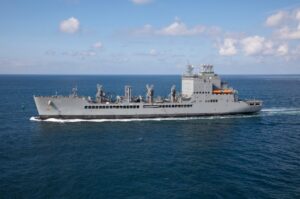 The John Lewis-class ships are being built by General Dynamics' [GD] National Steel and Shipbuilding Company (NASSCO) in San Diego. They will be operated by Military Sealift Command to provide diesel fuel; lubricating oil; jet fuel for embarked aircraft; and small amounts of provisions, stores and potable water to ships at sea.
"USNS John Lewis will provide much needed capability to the fleet as the primary fuel pipeline at sea. This is the first of a 20-ship class providing the Sailors and merchant mariners another tool to support at-sea operations," John Lighthammer, program manager of the Auxiliary and Special Mission Shipbuilding Program Office, said in a statement.
The service argued the new John Lewis-class will add capacity to the Combat Logistics Force and "become the cornerstone of the fuel delivery system."
The T-AO 205 class are based on commercial design standards to recapitalize the current T-AO 187-class oilers. The new ships have the capability to carry up to 162,000 barrels of oilers and travel up to 20 knots.
NASSCO is also currently in production on the future USNS Harvey Milk (T-AO 206), Earl Warren (T-AO 207), and Robert F. Kennedy (T-AO 208). The company is also under contract to build the Lucy Stone (T-AO 209) and Sojourner Truth (T-AO 210).