The Navy's attack submarine (SSN) force is at a low point that is worsened by a backlog in maintenance and that technological development work is taking too long, a top Navy submarine official said this week.
"Right now I'm at a low point in my fast attack numbers, I'm at 47 SSNs," Rear Adm. Jeffrey Jablon, Commander of Submarine Force at U.S. Pacific Fleet said Feb. 16 during a panel of the West 2022 conference in San Diego.
The West conference is co-hosted by the Armed Forces Communications and Electronics Association (AFCEA) International and the U.S. Naval Institute (USNI).
He said this is made worse by idle time and maintenance delays. Jablon underscored idle time means submarines are awaiting maintenance because they have exceeded their period at sea for unrestricted operations, so they are no longer approved to submerge.
In 2016 the Navy submarine force had 360 days of idle time, days of operations lost.
By comparison, "last year we had almost 1,500 days of idle time. That's [the equivalent of] four SSNs that I could not use for operations," Jablon said.
He said his force also had about the equivalent of three and a half attack submarines due to maintenance delays "based where they were supposed to finish their availabilities and where they [actually] finished."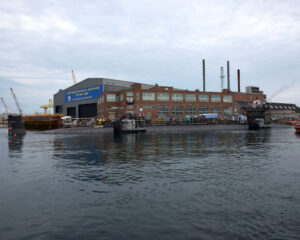 "So that's about seven and a half SSNs that I could not use last year because of awaiting maintenance or maintenance delays," Jablon said.
He said the Navy has also had issues in shipbuilding delays. Both the shipbuilding and maintenance industries have had to deal with COVID-19 pandemic and supply chain issues, which is stressed by the significantly smaller number of suppliers compared to 30-40 years ago.
"Back in the '80s we had 17,000 suppliers for the submarine force. Now we're down to 5,000 suppliers for the submarine force. That hurts and that affects our ability to get our submarines out on time," Jablon said.
He confirmed that despite the low attack submarine numbers, "I can reiterate that we meet all our operational commitments, we're able to ensure that our ships are combat ready when they deploy and meet the requirements of our combatant commanders that are placed upon us."
However, Jablon noted the downside is this tension between readiness and capacity results in a lower ability to do "tactical development at sea."
This means the Navy does not have as many submarines go out and do tactical development or it cuts commanding officers' discretionary time.
"We're still able to prepare the ship to be combat ready when they deploy," Jablon said, but "it's more difficult, it's more deliberate, it takes more input from the [type commander's] staff to do that. But we're able to meet…what we're tasked to do."
He also said his force is partnering with Naval Sea Systems Command to help ensure submarines are ready to start work at the start of their availabilities to increase efficiency.
"Some of the things that NAVSEA is working on is expanding capability and capacity within their shipyards, optimizing production, investing in capital equipment, and investing in manpower, recruiting, and training those shipyard workers and we need to support them."
Jablon noted he is satisfied with submarine force manning levels, but the Navy's submarine force is not moving fast enough with new tactical development technology.
When he got to his current role, he said their Undersea Warfighting Development Center (UWDC) was doing tactical development work (TACDEV) for technologies "that would be put on a submarine in the next 10 years or so. I need technologies in the near term, I need TACDEV to be done quickly and to put those technologies on my submarines for the near term for which I mean next two to five years."