In an upcoming April exercise known as a fleet battle problem, the Navy plans to use a Zumwalt-class destroyer to command and control both manned and unmanned forces to operate long-range multidomain fires in the Pacific Ocean.
The U.S. Pacific Fleet is set to host this event "exploring elements of that future force that will have the greatest impact on increasing the fleet's lethality" in the 3rd Fleet operational area, U.S. Navy spokesman Lt. Tim Pietrack told Defense Daily on Monday.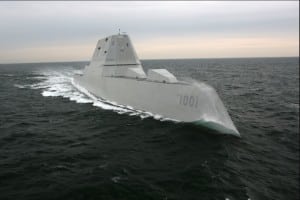 The 3rd Fleet operates in the eastern and northern Pacific Ocean.
Specifically, the USS Michael Monsoor (DDG-1001), will use its "unique capabilities to command and control manned and unmanned forces to conduct long-range, multi-domain fires."
Previously, during a media call when the service's new Unmanned Campaign Framework was released earlier this month, Vice Adm. James Kilby, Deputy Chief of Naval Operations for Warfighting Requirements and Capabilities, said exercising and prototyping is important to develop enabling capabilities that can work across various unmanned systems and noted this April exercise (Defense Daily, March 17).
"The Unmanned Campaign Framework states it is imperative that we understand what our future force will need to operate both in day-to-day competition as well as high-end combat," Pietrack said.
"Through operational scenarios, what we learn from this event will provide pertinent and timely input to the Naval Research Enterprise and the acquisition community, to better inform unmanned system development moving forward," he added.
The event is planned to incorporate various unmanned capabilities and capability enablers including the Super Swarm project, Medium Displacement Unmanned Surface Vessels (MSUSVs) Sea Hunter and Sea Hawk, the MQ-8B Fire Scout Unmanned Aerial Vehicle (UAV), and MQ-9 Sea Guardian UAV.
Pietrack said the Sea Hunter and Sea Hawk vessels will support manned fleet units via integrating payloads to assist in anti-submarine warfare as well as building maritime domain awareness.
"The continued assessment of the autonomous capability of both Sea Hunter and Seahawk have led to great advances in reliability and compliance with collision provision regulations for autonomous surface vehicles," he said.
In the exercise, the MQ-9 Sea Guardian aims to expand on the traditional MQ-9 role by working with Navy and Marine Corps systems in scouting and anti-submarine warfare missions.
Lastly, the Fire Scout, operating from an unspecified Littoral Combat Ship, aims to integrate with both Navy and Marine Corps units.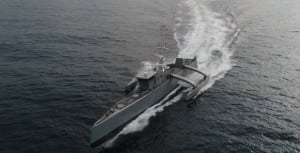 The Zumwalt-class destroyers as well as medium and large unmanned surface vessels are operating under the same developmental squadron to help develop concepts of operations and fleet introduction, Surface Development Squadron (SURFDEVRON) One.
Last September, the commodore of SURFDEVRON One said he expected to receive Sea Hunter 2, now named Sea Hawk, in the second quarter of FY '21, allowing it to be used for this exercise next month. The squadron took control of the first MUSV Sea Hunter in 2019 (Defense Daily, Sept. 15).
This exercise will be the Navy's first opportunity to use two MUSVs in one event and integrate them with unmanned aircraft.