The head of the Navy's development squadron focused on unmanned surface vehicle (USVs) recently explained how they are working to test and develop concepts of operation (CONOPS) for USVs while still receiving prototypes.
Capt. Hank Adams, the commodore of Surface Development Squadron One (SURFDEVRON One), laid out the schedule in which he expects to receive newer USVs during the virtual AUVSI Unmanned Systems conference on Sept. 8.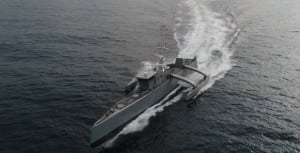 While the squadron took control of Sea Hunter 1 in 2019, Adams expects to receive Sea Hunter 2 in the second quarter of fiscal year (FY) 2021, two Strategic Capabilities Office (SCO) Overlord USVs (OUSVs) by the end of FY '21, and OUSVs 3 and 4 to start construction in FY '22 and then delivered to the squadron when they are ready.
Adams underscored in FY '21 he sees the squadron focusing on growing the team, expanding available USVs and expects "to see a significant increase in the schedule of fleet focused events to advance payload development; vessel maturation; fleet training; and man, train, and equip policies and development."
He said when the first two OUSVs arrive, SURFDEVRON One will have moved from one current single USV to four USVs, "which is a dramatic increase in our capacity and our ability to support both fleet operations and experimentation as well as prototyping for the program."
Beyond the physical vessels, Adams focused on advancing CONOPS while operating prototypes.
"We're going to deliver that first iteration of the Block 1 medium and large USV fleet CONOPS later on this fall."
Adams underscored after receiving the initial CONOPS they will "immediately begin working to refine it."
He explained as the lead organization for developing inaugural medium-large USV Block 1 fleet CONOPS it is generally organized along two lines.
"First, it's going to establish an initial position on platform wholeness, which gets at all the Title X man, train, equip policies that are going to govern that class of vessel. And that's in progress."
The other part in developing fleet operational CONOPS is focusing on surface strike; information operations; intelligence, surveillance and reconnaissance operations, as well as how to do command and control.
Adams highlighted one example of what the squadron is doing to inform that effort and iterate CONOPS is establishing a 24-hour, seven-day a week watch "at the first – I think it's safe to say the first instantiation of a fleet manned unmanned operations control ashore, UOC ashore. It's going to be right here in San Diego."
This watch will begin operating as the SCO OUSVs spend several weeks sailing to San Diego to move to Navy fleet ownership.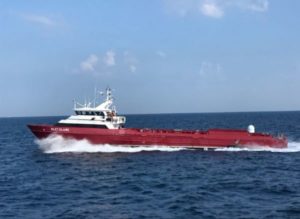 "So I'm going to have fleet operators, [surface warfare officer]-qualified junior officers, who've got training in COLREGS, ship handling and things like that and senior enlisted personnel in relevant rates."
These [personnel will stand up the watch and "they're going to be sitting right next to the technology developers that write the code for the supervisory control system. And for the duration of that transit, which will be some number of weeks, I'm going to have my guys in that UOC ashore."
Adams added they designed a job qualification requirement "because we have to establish some kind of a training standard to go off of. I signed out a set of standing orders that governs their conduct to the watch, that's new."
He said this will help them get feedback on what the squadron thinks command and control looks like from UOC and "we're going to be giving directions back to the technology developers on how to improve the human systems integration piece for the supervisory control system."
This means they will examine what is the proper information display to be part of UOC ashore, what is the proper manning, and was training done right.
"In this particular case, this multi-week project working with SCO is going to help us get after command and control design and the policies and procedures that are going to have to govern that," he added.
Adams reiterated this is just one example of many efforts going on at SURFDEVRON One in FY '20 and '21 to leverage opportunities to advance USV development.