The U.S. military began the 2020 Valiant Shield 2020 joint forces training exercise on Sept. 14.
The 12-day U.S.-only biennial exercise focuses on "integration of training in a blue-water environment," the Navy said in a statement. The exercise occurs on Guam and around the Marina Islands Range Complex and is running from September 14-25. This is the eighth edition of Valiant Shield since it began in 2006.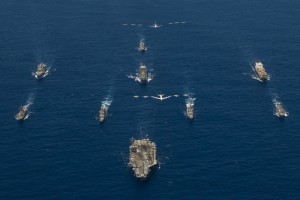 Participants this year include the aircraft carrier USS Ronald Reagan (CVN-76), amphibious assault ship USS America (LHA-6), San Antonio-class amphibious transport dock USS New Orleans (LPD-18), Whidbey Island-class dock landing ship USS Germantown (LSD 42), other surface ships, about 100 aircraft, and 11,000 Navy, Marine Corps, Air Force and Army personnel.
The Navy described this training as enabling real-world proficiency in sustaining joint forces via "detecting, locating, tracking, and engaging units at sea, in the air, on land, and cyberspace in response to a range of mission areas."
"Exercises such as Valiant Shield allow U.S. forces the opportunity to integrate warfighting concepts such as all-domain strike group operations in a joint high end warfare training environment to continuously improve joint lethality," Rear Adm. Michael Boyle, director maritime operations, U.S. Pacific Fleet, said in a statement.
Participating forces are set to exercise capabilities including maritime security operations, anti-submarine and air-defense exercises, amphibious operations, and other aspects of "complex warfighting."
The Navy underscored that the exercise has taken appropriate mitigation measures against the COVID-19 pandemic in coordination with medical and public health personnel.
"The planning focused on protecting service members and their families; preventing the spread of the virus to U.S. forces, local residents, allies, or partners; and ensuring warfighting readiness in order to accomplish assigned missions," the Navy said.
Valiant Shield is occurring at roughly the same scale as in 2018 whereas COVID-19 caused the recent RIMPAC 2020 exercise to be significantly scaled down.
RIMPAC in August was limited to at-sea only and was downsized from an original plan of 30 countries, over 50 ships and submarines, over 200 aircraft, and 25,000 personnel to instead include 10 countries, 22 ships, one submarine, and only 5,300 personnel (Defense Daily, August18).
Valiant Shield 2018 included 15 surface ships, 160 aircraft, and 15,000 personnel across the services (Defense Daily, Sept. 18, 2018).