Naval Sea Systems Command intends to issue a sole source request for proposals for a two-year contract to Aerovironment, Inc. to procure up to 120 Blackwing Unmanned Aerial Vehicles for use in the submarine-launched unmanned aerial system (SLUAS) middle tier acquisition program.
Specifically, the Navy plans to procure the Blackwing 10C Electro-Optic (EO) and Infrared (IR)-equipped UAVs be used on "various Navy submarine platforms during the SLUAS Middle Tier Acquisition program execution," the Navy said in a presolicitation notice published March 9 on beta.sam.gov.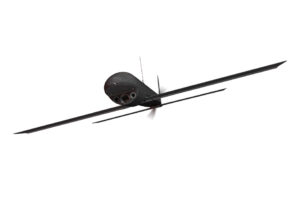 The program execution is estimated to be finished by May 2023.
The notice said tactical temporary installations (TEMPALT) of the SLUAS system to integrate the Blackwing 10C UAVs was projected to be approved on March 10.
The ordering period of the indefinite delivery indefinite quantity  typecontract was projected to last from May 2021 to May 2023, with deliveries starting as soon as August 2021.
The Navy said Aerovironment "is the only known responsible source that possesses the facilities, tooling, equipment, manufacturing expertise, and technical expertise to provide the required Blackwing 10C UAVs within the Government's required delivery and ordering period."
The notice said the Blackwing 10C UAVs have previously been developed, tested and demonstrated successful integration with the rest o the SLUAS components and subsystems.
According to an Aerovironment data sheet, the Blackwing weighs four pounds, has a wing span of 27 inches, and a length of 19.5 inches.
An October Navy Request For Information notice said the service was requesting white papers to determine capabilities for a SLUAS for Intelligence, Surveillance and Reconnaissance (ISR) missions (Defense Daily, Nov. 3, 2020).
The SLUAS capabilities the Navy is looking for includes a 3-inch diameter form-factor to provide sensor, communications and cubersecurity capabilities. The system was requested to be able to be launched from the U.S. submarine fleet's three-inch Signal System Ejector (SSE) equipment.
In November, Rear Adm. David Goggins, program executive officer for submarines, said the service had developed and demonstrated the utility of a SLUAS to help target torpedoes after using the middle tier acquisition authorities to start the project in 2019 (Defense Daily, Nov. 23, 2020).
Goggins said the Navy conducted an at-sea demonstration of SLUAS on the USS Annapolis eight months after it finished the approved capability production documents, with the submarine launching 12 of 12 of the SLUAS UAVs from periscope depth and controlling them at ranges well beyond line of sight.
In the demonstration, the submarine conducted a simulated torpedo attack against the Littoral Combat Ship USS Charleston (LCS-18) near the maximum effective range of the torpedo.
Goggins said the Navy currently has five SLUAS ship sets. SLUAS first deployed with the fleet last September.