The Navy is requesting white papers to determine capabilities for a submarine-launched unmanned aerial system (SLUAS) for Intelligence, Surveillance and Reconnaissance (ISR) missions, according to a recent notice.
"The Navy requires the capability of a SLUAS with a 3-inch diameter form-factor to provide enhanced sensor, communication and cyber-security capabilities. The integrated system should be capable of launch from the U.S. submarine fleet's 3-inch Signal System Ejector (SSE) equipment," the Oct. 30 Request For Information (RFI)/Sources Sought notice said.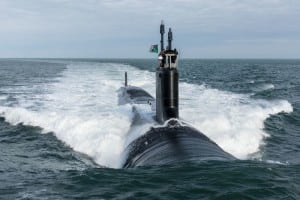 The RFI said a SLUAS All-Up-Round would include the integrated submarine deployment cannister and the Unmanned Aerial Vehicle (UAV). This SLUAS would also be focused as an ISR single mission system but have folding wings to be a "high reliability, submarine-launched small diameter aircraft capable of conducting ISR missions in contested ocean environments."
"Threshold performance of the air vehicle should include electro-optic capability with reliable target solution analysis.  The vehicle should remain airborne for at least one hour, operate at ranges out to the line-of-sight radio horizon, and use a variable bandwidth encrypted datalink with at least 256-bit encryption strength," the notice continued.
Notably, the Navy said the SLUAS is required to operate in an emission-controlled environment and operate without constant radio communication. The design should also be flexible enough to allow for future modifications to adapt to various UAVs and payloads over the next five years.
The AUR is planned to be tested and improved "for various environmental and operations conditions to minimize own-ship vulnerabilities, include anti-tamper, and include increased reliability performance."
The Navy said this RFI is for market research purposes only "to determine overall market developments, capabilities, and adequacy of the industrial base capable of providing the supplies/services described herein."
Beyond the outline above, the notice also requests industry comment on how the government can best satisfy its needs, alternative approaches, technology available and risk, identification of cost drivers, and suggestions on ways to enhance or sustain competition.
The RFI was issued for the Program Executive Office Submarine Combat and Weapons Control Program Office (PMS 425).