The State Department approved a potential $600 million Foreign Military Sale (FMS) of four weapons-ready MQ-9B SkyGuardian unmanned aerial systems.
The Defense Security Cooperation Agency notified Congress of the sale on Tuesday.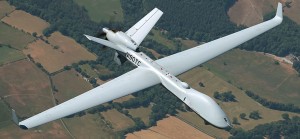 The sale is going through the Taipei Economic and Cultural Representative Office in the United States (TECRO), the Taiwan equivalent of an embassy.
TECRO's sale request includes four MQ-9B aircraft, two fixed ground control station, two mobile round control stations, and 14 Embedded Global Positioning System/Inertial Navigations Systems (EGI) with Selective Availability Anti-Spoofing Module (SAASM) (12 installed, two spares.).
The sale also includes MX-20 Multi-Spectral Targeting Systems and spares; SeaVue Maritime Multi-Role Patrol Radars; SAGE 750 Electronic Surveillance Measures (ESM) Systems; C-Band Line-of-Sight (LOS) Ground Data Terminals; Ku-Band SATCOM GA-ASI Transportable Earth Stations (GATES); AN/DPX-7 IFF Transponders; Honeywell [HON] TPE-331-10GD Turboprop Engines; and other associated logistics and support equipment and services.
The primary contractor will be General Atomics' Aeronautical System, Inc. subsidiary. DSCA noted Taiwan typically requests offsets but any agreement will be defined in negotiations between the purchaser and contractor.
DSCA said this sale "will improve the recipient's capability to meet current and future threats by providing timely Intelligence, Surveillance, and Reconnaissance (ISR), target acquisition, and counter-land, counter-sea, and anti-submarine strike capabilities for its security and defense."
The agency added this capability is "a deterrent to regional threats and will strengthen the recipient's self-defense."
DSCA also noted the sake will help improve the security of Taiwan and assist in "maintaining political stability, military balance, economic and progress in the region."
A State Department official noted, as allowed under the Taiwan Relations Act, the U.S. makes available defense articles and services needed for it to maintain a sufficient self-defense capability.
The official underscored that, if concluded, this will be the first time the government is invoking its national discretion on implantation of the Missile Technology Control Regime's (MTCR) "strong presumption of denial" to treat the transfer of a Category I UAS with a maximum airspeed less than 800 kilometers per hour as Category II since the July 2020 update to the UAS Export Policy.
In July, the U.S. loosened restrictions on exporting military drones to other countries, allowing allies to purchase larger unmanned systems that can fly up to 800 kilometers per hour (Defense Daily, July 24).
The new policy removes the "presumption of denial" that earlier blocked most FMS for systems like the MQ-9 Reaper and RQ-4 Global Hawk.
The government's previous interpretation of MTCR guidelines prohibited most sales of Category 1 UAS capable of carrying payloads of up to 500 kilograms for over 300 kilometers.
That change came after a 2018 policy change allowing direct commercial sales of drones with allies and eliminating the laser designation of UAS technologies that had reduced sales (Defense Daily, April 20 2018).
The official noted the MQ-9B, like all Category I UAS systems, is still subject to Enhanced End Us Monitoring under the Arms Export Control Act, which aims to improve accountability.
The State Department official said the U.S. still remains committed to the MTCR, including the aim of limited the proliferation of unmanned delivery systems for weapons of mass destruction. It said the Trump administration pledged to keep working with MTCR partners to modernize control on Category I UASs.
This sale comes after a series of several Taiwan FMS this year.
Last week, the State Department approved a potential $2.37 billion sale of up to 100 Harpoon Coastal Defense Systems with 400 Harpoon Block II surface-launched missiles (Defense Daily, Oct. 26).
In July, the State Department approved a $620 million deal for recertification of PAC-3 missiles to replace expiring components of its PAC-3 missiles for 30 more years of operational life (Defense Daily, July 9).
Back in May, the State Department approved a possible $180 million FMS of 18 MK-48 Advanced Technology Heavy Weight Torpedoes (Defense Daily, May 20).