The Navy awarded Huntington Ingalls Industries [HII] a $315 million modification on Monday to move the future USS John F. Kennedy (CVN-79) aircraft carrier from two-phase to single-phase delivery and provide F-35C capabilities.
"The Navy is transitioning to a single-phase delivery approach to meet both Fleet requirements and a congressional mandate of ensuring that CVN-79 is capable of operating and deploying Joint Strike Fighter (F-35C) aircraft before completing the post-shakedown availability as codified" in the fiscal year 2020 National Defense Authorization Act, the Defense Department said in the contract announcement.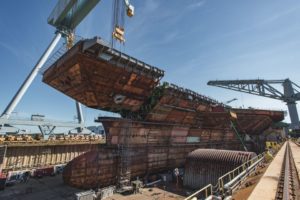 DoD noted the single-phase delivery date is planned for June 30, 2024.
The total value of the work is divided into two contract modifications: $284 million for one previous contract and a $31 million modification for another.
$14 million in fiscal year 2018 shipbuilding funds were obligated at the time of award and will not expire at the end of this fiscal year.
The announcement "comes as a result of extensive collaboration with the Navy to support legislative requirements for Kennedy to be delivered with its complete warfare system, including F-35 Joint Strike Fighter capabilities, before the ship is commissioned into the fleet.," HII said in a company statement.
HII underscored this modification is providing initial funding to procure long-lead material and planning and is expected to be definitized next year.
"We are pleased to have worked with the Navy to adopt lessons learned in the construction of USS Gerald R. Ford (CVN-78) to improve cost, production and planning efficiencies on Kennedy," Lucas Hicks, Newport News' vice president of new construction aircraft carrier program, said in a statement.
"We believe that the single-phase approach ensures the most effective build plan for all remaining work and provides the best value for the Navy by supporting its ability to accelerate operational deployment of this maritime force asset," Hicks added.
Last year, Assistant Secretary of the Navy for Research, Development and Acquisition James Geurts told reporters the Navy was considering moving the Kennedy from a dual-phase to single-phase delivery (Defense Daily, Oct. 31, 2019).
The ship's original two-stage delivery plan was designed and approved in 2014 to get the carrier to the Navy faster to replace the USS Nimitz (CVN-68) by the time it retires in the mid-2020s. That timeline would have finished delivery of the hull, mechanical and electrical construction by mid-fiscal year 2022, a June 20222 acceptance, followed by a nine-month post-delivery shakedown, and then an 18-month post-shakedown availability/selective restricted availability to conduct Phase II work to incorporate systems like the Enterprise Air Surveillance Radar (EASR), other electronics, and preempt required obsolescence management work.
Phase II was planned to be completed by September 2024 before it undergoes preparation before joining the deployment rotation including sea trials, post-delivery test and trials, and additional assessments and workups. CVN-79 would then be deployed by FY 2027.
However, in March the Navy said it decided to switch the Kennedy to the single-phase delivery strategy.
A spokesman for Geurts told Defense Daily moving to a single-phase delivery "will deliver a more capable and lethal ship to the fleet, mitigate schedule risk while providing an opportunity to reduce post-delivery costs" (Defense Daily, March 27).
The change in delivery was not expected to impact the delivery schedule, still set for 2024.
However, in August Geurts told reporters the Navy was reassessing the timeline for the Kennedy due to both the delivery plan change and the COVID-19 pandemic (Defense Daily, Aug. 13).
He said the Navy was taking into account the productive hours they are seeing on HII's work on CVN-79, building new systems like the Advanced Weapons Elevator, and lessons learned from building the USS Gerald R. Ford (CVN-78).
HII said CVN-79 is about 76 percent complete. It was launched in December 2019 and is undergoing additional outfitting and testing at the HII Newport News Shipbuilding division in Virginia.