The Navy's top acquisition official is considering if the second Ford-class aircraft carrier should change from a dual to single-phase delivery to reduce risk going forward.
"I'm personally looking at whether we should go to a single-phase delivery vs. a dual-phase delivery…we may look at that based on our learning curve," Assistant Secretary of the Navy for Research, Development and Acquisition James Geurts said Monday at a press event.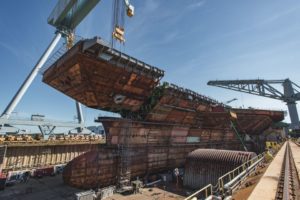 He explained the service is trying to balance between getting systems on the future USS John F. Kennedy (CVN-79) soon but not wanting it to be outdated by the time the ship is operational.
"And it's a really hard problem. I don't want anybody to think that I'm coming in with a brilliant idea from the dark. It's really – based on how the team's working together now, what we've learned on [CVN-] 78, what is the most effective way we deliver the class of Ford carriers, not each individual one," Geurts said.
He emphasized after the Navy decided, with congressional approval, on conducting a two-carrier buy for CVN-80 and 81, they are "going to re-look at 79."
CVN-79 currently has a unique two-stage, or phase delivery, plan designed and approved in 2014 that aims to get the ship to the Navy faster to replace the USS Nimitz (CVN-68) by the time it retires in the mid-2020s.
The first phase aims to complete delivery of the hull, mechanical and electrical construction by mid-fiscal year 2022. This builds the ship and installs propulsion, core systems for safe navigation, and the aircraft launch and recovery equipment needed to demonstrate the flight deck.
CVN-79 is scheduled to undergo a nine-month post-delivery shakedown after a June 2022 acceptance before starting an 18-month post-shakedown availability/selective restricted availability to conduct Phase II.
Phase II includes construction and incorporation of systems like the Enterprise Air Surveillance Radar (EASR), procurement and installation of electronics as late as possible, and preemption of required obsolescence management work in the ship's first planned incremental availability.
Phase II is planned to end in September 2024 when the ship will then undergo preparations before joining deployment rotation including sea trials, post-delivery test and trials, additional assessments, and 14 months of workups.
In May, the program manager for CVN-79/80/81 within program Executive Office Aircraft Carriers said the Nimitz is scheduled to be inactivated in FY 2025 as CVN-79 enters workups. Kennedy is scheduled to enter the deployment rotation in late FY 2026 and planned to be deployed in FY 2027 (Defense Daily, May 7).
Geurts said CVN-79 has "a lot of stakeholders so I don't want to presume. I don't want to get out in front of other stakeholders, but the [Chief of Naval Operations] and I are re-looking at all these activities to make sure – with the fleet commanders, with the contractors, with the Navy team" to go after things that can speed up production smartly.
Geurts added that the Navy is pretty close to a decision on whether it will change the phase delivery and is giving the new program executive officer (PEO) for aircraft carriers latitude to make smart changes.
"I've given Rear Adm. [James] Downey, the new PEO, free rein to do smart. And if there's an area where we've learned something new or circumstances have changed or we've got a better idea – I want to be aggressive in pivoting on that and not just sticking with the old plan just because it was the old plan."