The America-class amphibious assault ship future USS Tripoli (LHA-7) finished acceptance trials upon returning to shipbuilder's Huntington Ingalls Industries' [HII] Ingalls Shipbuilding shipyard in Pascagoula, Miss., the Navy said Oct. 28.
During the trials and while underway for three days at sea, the Navy's Board of Inspection and Survey (INSURV) performed an evaluation of all the major systems on the ship, including propulsion, communications, navigation, combat systems, and aviation capabilities.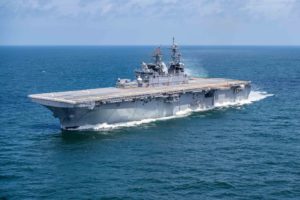 The Tripoli is the second America-class large deck amphibious vessel and the last Flight 0 version planned to be built. It has an enlarged hangar deck, realignment and expansion of aviation maintenance facilities, increased stowage for parts and support equipment, and increased aviation fuel capacity.
"The success of these trials is the culmination of the hard work and determination from our shipbuilders and leadership team. We have worked closely with our Navy partners to ensure that LHA-7 will provide unparalleled sea basing capabilities for the Navy's amphibious ready groups and the Marine Corps Air-Ground Task Forces," Ingalls Shipbuilding President Brian Cuccias said in a statement.
In 2015, Cuccias said the company expected to deliver the ship in 2018, only for it to be delayed until now (Defense Daily, April 16, 2015).
The ship was delayed past that date and then this August HII President and CEO Mike Petters said in a quarterly earnings call that LHA-7's delivery was delayed again into the late 2019 to early 2020 timeframe. Petters said the company is working through some technical design issues about the life of the ship. He said ship systems were working well at the time, but there was a question of if they would work over the total life of the ship.
Petters sad while the issues were complicated, he believed the shipbuilder and Navy would reach a resolution by the end of 2019.
Last year, local Florida media reported LHA-7 would be commissioned at Naval Air Station Pensacola, Fla., this fall.
LHA-7 finished its four day-long builder's trials in July, when the Navy assessed ship readiness at dock and at sea (Defense Daily, July 22).
Next, the future USS Bougainville (LHA-8) will be the first Flight I ship, which itself will reincorporate a well deck while maintaining the major aviation features of the Flight 0 ships.
The Navy underscored LHA-7 uses a gas turbine propulsion plant, zonal electrical distribution, and fuel-efficient electric auxiliary propulsion systems first installed on the USS Makin Island (LHD-8).
"The capability that our large deck amphibs bring to the fight is tremendous. Their ability to embark Joint Strike Fighters and MV-22 Osprey enable this versatile platform to increase the lethality of our expeditionary warfighters," Tom Rivers, amphibious warfare program manager for Program Executive Office Ships, said in a statement.
"There's been a lot of hard work accomplished to get LHA-7 to this point. The team's focus is now on delivering the LHA-7 to the fleet in the best possible condition, fully capable and ready to deploy if called upon," Capt. Nathan Schneider, Supervisor of Shipbuilding, Conversion and Repair Gulf Coast, added.
HII's Pascagoula shipyard is currently working on production of LHA-8, the guided missile destroyers Delbert D. Black (DDG-119), Frank E. Peterson (DDG-121), Lenah H. Sutcliffe Higbee (DDG-123), Jack H. Lucas (DDG-125), and amphibious transport dock ships Fort Lauderdale (LPD-28) and Richard M. McCool Jr. (LPD-29).