The Army has selected General Dynamics [GD] Land Systems for its program to provide unmanned ground robots to transport soldiers' equipment, awarding the company a $162 million deal for its Multi-Utility Tactical Transport vehicles. 
GDLS beat out Polaris [PII], HDT Expeditionary Systems and Howe & Howe for the Squad Multipurpose Equipment Transport (SMET) program.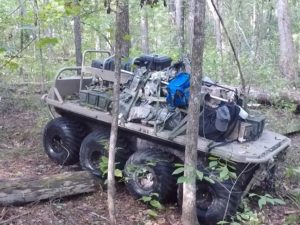 "The MUTT is a rugged, reliable small-unit force multiplier providing increased persistence, protection and projection. As a controllerless small-unit robotic follower, it lightens the load throughout the full gamut of combat operations. As a remote-controlled or teleoperated teammate, it provides stand-off from threats or increased projection of combat power," GD has said regarding its offering. "The MUTT is engineered to easily evolve to accommodate new payloads, new controllers and increased levels of autonomy."
Under the initial deal, announced by the Pentagon on Wednesday evening, GD will provide MUTT ground robots, support hardware, refurbishment services and user training, with work expected to be completed in October 2024.
The Army has said it wants to field SMET by 2021 with the goal of having the ground robots carry up payloads of up to 1,000 pounds, or about nine soldiers' worth of equipment. The robotic vehicles are also expected to travel up to 60 miles over the course of 72 hours.
In 2017, the Army held a SMET "fly-off" event with 10 contenders before ultimately selecting GD's MUTT, Polaris' MRZR, HDT's Hunter Wolf and Howe & Howe's RS2-H1 for technology demonstration, with an eventual goal to award one contract for low-rate initial production.