The Army has awarded General Dynamics Land Systems [GD] a $1.2 billion contract for production of Interim Maneuver Short-Range Air Defense (IM-SHORAD) systems, the Pentagon said Wednesday.
IM-SHORAD is the Army's program to field a new mobile platform on its Stryker vehicles capable of taking down unmanned aircraft systems, rotary-wing and fixed-wing threats, as well as cruise missiles.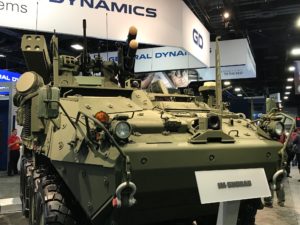 GD was selected as the platform integrator for IM-SHORAD with a prototype deal in 2018, while Leonardo DRS is supplying the mission equipment package.
The mission equipment package includes the Moog [MOG.A] Reconfigurable Integrated-weapons Platform (RIwP) turret, Hellfire and Stinger missiles and a 30mm cannon.
The Army previously approved a requirement to produce up to 144 IM-SHORAD systems.
Work on the deal is expected to be completed by Sept. 30, 2025, according to the Pentagon.