Israel has begun delivering the first battery of the Iron Dome missile defense system to the U.S. Army, with soldiers to begin testing on the system in early 2021.
The Army signed a deal with Israel manufacturer Rafael in August 2019 for two Iron Dome batteries, while officials have noted the system is currently unable to integrate with its future missile defense command platform.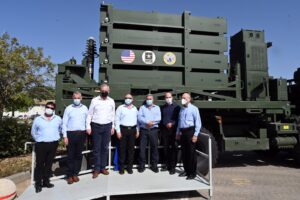 "The Iron Dome system, as a part of [Israel's] multi-layered missile defense system, reflects the strength of the Israeli defense establishment. As a result of the effectiveness of this system, many deaths were prevented on the homefront of southern Israel, and it has a significant impact on the battlefield," Benny Gantz, Israel's defense minister, said in a statement. "I am proud that this advanced system will also protect U.S. Army troops. This is an extraordinary achievement for both the Ministry of Defense and for Israel's excellent defense industries."
The complete Iron Dome battery completed factory testing in Israel and is set to head to White Sands Missile Range in New Mexico for further testing, Robyn Mack, an Army Futures Command spokesperson, told Defense Daily.
Pini Yungman, head of Rafael's air and missile defense division, said the company has previously conducted three demonstrations to date with Iron Dome successfully intercepting targets.
"The Iron Dome system which will serve the U.S. military is tailored according to U.S. requirements. This being said, its performance capabilities, as seen in Israel, will remain the same," Yungman said in a statement.
The Army acquired Iron Dome per a directive in the fiscal year 2019 defense authorization bill, with the goal for the system to serve as an interim cruise missile defense system while it continues pursuing a long-term Indirect Fire Protection Capability (IFPC).
Lt. Gen. Daniel Karbler, head of Army Space and Missile Defense Command, said in March that the ability to integrate with the Integrated Air and Missile Defense (IAMD) Battle Command System (IBCS) will be a requirement for participants in next spring's "shoot-off" to find an enduring IFPC capability (Defense Daily, March 12).
Karbler said at the time that Iron Dome's individual components don't currently fit within the IBCS' "any sensor, any shooter" approach to networked missile defense.
In August, Rafael and Raytheon signed a new joint venture to open an Iron Dome production facility in the U.S. (Defense Daily, Aug. 3).