BAE Systems has received a $339 million order from the Army to deliver 48 M109A7 Self-Propelled Howitzers, the company's latest deal since the program was approved for full-rate production in February. 
The company told
Defense Daily the recent award brings the total number of M109A7 and M992A3 Carrier Ammunition Tracked vehicle sets to 204 systems, with a total contract value of $1.5 billion.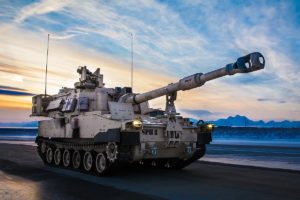 The Army noted in December it was readying to move the M109A7 program into full-rate production after senior leaders received assurance that previous manufacturing issues at BAE Systems' production facility had been addressed and that it could meet future delivery schedules (Defense Daily, Dec. 19). 
"We have improved our processes to ensure manufacturing quality and completed the expansion of our facility in Elgin, Oklahoma.  We are now consistently delivering against the agreed upon schedule for the M109A7 and accompanying ammunition carrier," Amanda Niswonger, a BAE Systems spokeswoman, told Defense Daily. 
The Army awarded the initial contract for the M109A7 in 2017, with the latest version of the howitzer designed with a new chassis, engine, transmission, suspension, steering system and a high voltage architecture.
Deliveries under the latest deal are expected to begin in 2022 and conclude in the beginning of 2023, according to Niswonger.