Naval Air Systems Command awarded Raytheon [RTN] a $392 million modification on March 20 to produce and deliver additional Lot 20 AIM-9X, Block II, and Block II plus Sidewinder air-to-air missiles.
This modification exercises options for Raytheon to produce and deliver an undisclosed amount of these tactical missiles as well as captive air training missiles, plus all up round tactical missiles, captive test missiles, special air training missiles, advanced optical target detectors, guidance units, Block I and II propulsion steering sections, electronic units, and other associated part and spares.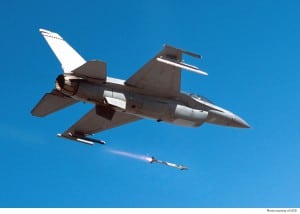 The contract announcement noted the modification also provides for material to support repairs, depot maintenance and refurbishment.
These missiles and parts are being procured for the Navy and Air Force as well as Foreign Military Sales (FMS) to Australia, Bahrain, Belgium, Bulgaria, Denmark, Finland, Israel, Japan, Morocco, the Netherlands, Norway, Oman, Poland, Qatar, Romania, Singapore, Slovakia, South Korea, Switzerland, Taiwan, Turkey and the United Arab Emirates.
Work will mostly be split between Tucson, Ariz. (31 percent); Andover, Mass. (10 percent); Keyser, W.Va. (9 percent); Santa Clarita, Calif. (8 percent); Hillsboro, Ore. (5 percent); and Ottawa, Ontario, Canada (5 percent); as well as various other locations within and outside the continental U.S. The work is expected to be finished by July 2023.
This award combines purchases for the Air Force of $145 million or almost 37 percent, Navy of $143 million or almost 36 percent, and FMS customers of $105 million or 27 percent.