Top Navy officials on Tuesday noted while they have not seen any shipyard delays due to the COVID-19 pandemic they are expecting and planning for future issues.
When asked during a press briefing if there have been any naval production capacity effects from the pandemic yet, Acting Secretary of the Navy Thomas Modly said, "to date we haven't seen any sort of perturbations in that right now but we are anticipating that there will be, and we're looking at what that might cost with respect to helping the shipyards maintain their viability if they have to slow down and miss certain production milestones."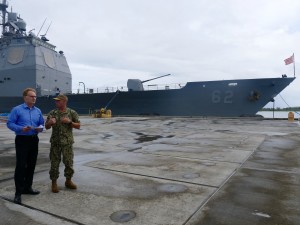 Modly noted the service relies on both the Navy's public shipyards and the commercial defense industrial base yards and is staying in close contact with them daily.
"The Assistant Secretary of the Navy [James] Geurts, he talks to the shipyard CEOs on a daily basis to make sure they're understanding what our objectives are," Modly continued.
"We rely on our shipyards…we need them to continue to operation because you can't lose those skills, we have to keep them maintained so we've been very clear and very consistent talking to our commercial partners regularly," he said.
The Navy needs yard work to continue, but Modly said they are concerned with the health of the workers and "we just need to be aware of what they're doing in that regard so that we can adjust our expectations about what they can deliver and when they can deliver."
Chief of Naval Operations Adm. Michael Gilday agreed and added Geurts' conversations with shipyard CEOs hear about "their ability to maintain both a repair capability as well as production capability has been vitally important for us."
Gilday said the large shipyard prime contractors are also keeping tabs on the larger supply chain as the pandemic spreads.
"They're creating the room for, lack of a better term, task force to take a look at what the supply chain looks like to keep all of those production lines running and to see where we might be incurring risk out through, let's say, 2021 so that we can then prioritize and then the secretary can then prioritize what kind of work that we need to do."
The press conference came days after two major shipyards disclosed their first employees confirmed to have COVID-19.
Huntington Ingalls Industries [HII] reported two separate confirmed cases of COVID-19 among employees at both its Newport News Shipbuilding yard in Virginia and the Ingalls Shipbuilding yard in Pascagoula, Miss., (Defense Daily, March 23).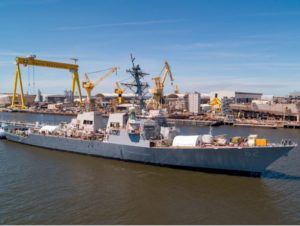 Over the weekend, General Dynamics [GD] Bath Iron Works (BIW) confirmed an employee has the virus and last worked in the shipyard on March 13. Last week, the leaders of the Maine state legislature wrote to the national congressional delegation asking them to push the Defense Department to extend ship contract deadlines so employees could have a lower risk of transmission at the shipyard (Defense Daily, March 23).
Last week, BIW made public a letter company president Dirk Lesko received from Geurts who emphasized the importance of employee health but also said delivering and redelivering Navy ships is an essential national security need.
Both companies said there has been no impact on production work yet and they will remain open for business as the Department of Defense and Navy direct them. HII corporate spokeswoman Beci Brenton told Defense Daily last week the company is having ongoing discussions with customers and continue preparing for contingencies and future plans.
On March 20, Undersecretary of Defense for Acquisition and Sustainment Ellen Lord issued a memo directing defense contractors to follow local authority and Centers for Disease Control and Prevention guidance, but that workers developing national security products and services must remain at work and are designated critical workers (Defense Daily, March 20).