General Dynamics [GD] Bath Iron Works (BIW) said it has not seen any production work impact from the COVID-19 pandemic yet and is staying open for business amid its first positive case and calls from the union to temporarily close the shipyard.
In a March 17 statement, BIW said they remain open for business to meet the national defense needs and neither the Defense Department nor the Navy directed them to stop work or otherwise relieved them from contract or schedule requirements, just like the other major defense manufacturers.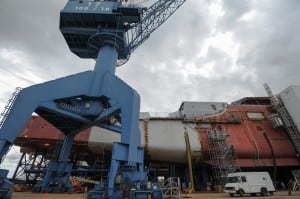 "We have taken measures to slow the spread of COVID-19 and will continue to communicate openly with our employees, suppliers, stakeholders and our community to keep them informed. We have also taken measures to ensure the employment security of our employees should they be unable to work or choose not to work," the company said.
BIW is currently building the
Arleigh Burke-class DDG-51 destroyers and finishing Zumwalt-class DDG-1000 destroyers.
On March 19, BIW made public a letter received from Assistant Secretary of the Navy for Research, Development and Acquisition James Geurts to GD BIW president Dirk Lesko.
Geurts emphasized the importance of employee health and safety while also emphasizing the importance of the company's ship construction and repair efforts.
"Delivering or redelivering our ships to the fleet is a national need that is unwavering and crucial to our national security. Given the mission essential functions you perform, while ensuring the safety and well-being of the workforce, I cannot stress enough the importance of accomplishing this mission, and notifying the Government of any impediments that are considered likely to interfere with timely accomplishment of this mission," Geurts wrote.
He noted this is in accordance with the President's Coronavirus Guidelines and the Presidential Policy Directive/PPD-21, Critical Infrastructure Security and Resilience that defines critical infrastructure to include the defense industrial base.
"Secretary Modly, Chief of Naval Operations (CNO), Commandant of the Marine Corps (CMC), and I understand that this national emergency presents a challenge and we are dedicated to working closely with you to ensure the safety of the workforce and the national security mission," Geurts added.
This letter matches a memo written by Undersecretary of Defense for Acquisition and Sustainment Ellen Lord on March 20 directing contractors to follow Centers for Disease Control and Prevention and local authority guidance, but workers who develop national security products and services must stay on the job as critical workers (Defense Daily, March 20).
However, over the weekend BIW confirmed an employee contracted COVID-19 who last worked in the yard on March 13.
The company's website said they were notifying employees in close contact of the individual and they are all being directed to undergo a 14-day period of observation since the last contact.
BIW's benefits to employees concerned about infection vary based on type, but generally focuses on using standard sick time, vacation, personal business, and Family Medical Leave and Accident and Sickness in accordance with personal eligibility and salary benefits.
According to the company website, employees are able to use their leave entitlements like sick, vacation and floating holidays and may qualify for Family Medical Leave coverage. Employees are also now allowed to take up to 80 more hours of unpaid excused time off from March 16 to March 27 without risking their jobs.
However, last week two of the largest unions at BIW criticized the company for not offering any additional paid COVID-19 sick leave or leave to care for children out of school.
The leaders of BIW Locals S6 and S7, affiliates of the International Association of Machinists and Aerospace Workers, argued the shipyard should be closed for two weeks, providing workers with additional paid time off to allow employees to "follow public health guidelines to isolate themselves at home and from the public," president of Local S6 Chris Wiers and president of Local S7 Jessica Chubbuck-Goodwin said March 16.
"Much smaller employers in Maine have already announced they are sending workers home with full pay during this public health emergency and a multi-billion dollar corporation like General Dynamics can afford to do the same," they added.
The BIW COVID-19 case disclosure comes a week after Maine's congressional delegation wrote to the Pentagon leadership urging efforts to protect shipyard employee health and help mitigate contractor financial burdens to stabilize the industrial base (Defense Daily, March 20).
The letter also asked the Defense Department to provide clear guidance and relief from contract requirements impacts by COVID-19.
Separately, last week the leaders of the Maine state legislature urged the national congressional delegation to push DoD to extend ship contract deadlines.
Speaker of the House Sara Gideon (D) and Senate President Troy Jackson (D) along with the rest of the majority leadership in the two chambers wrote while BIW management was directed to maintain normal work operations to meet deadlines, this assumed a healthy employee populations and low risk of community transmission of the virus.
"This is no longer a safe or realistic expectation for BIW or any large employer, it will likely result in loss of life and will definitely result in lost productivity," Giden and Jackson wrote.
"For this reason, we request that you do all in your power to convince the President, Department of Defense, and Department of Homeland Security to provide contractual relief by at least an additional six months, or by as long as a national emergency declaration remains in place," they continued.
They argued extending the deadlines can provide company management with the flexibility to reduce the workforce, increase social distancing, and decrease the risk of community transmission. In turn, that will allow employees to use temporary unemployment benefits, work part-time, and care for sick family members while being ready to return to work after the crisis passes.
"Time is of the essence. A short-term slowdown in work now may delay production, but it will also help prevent a far more significant and lasting slowdown or full production stoppage if a large outbreak occurs. Most importantly, it will ease the burden on our public health system as it faces this crisis."