Defense Secretary Mark Esper said Monday he has received requests from several governors seeking military assistance in their response to managing the coronavirus outbreak, with the Pentagon readying to send military field hospitals to Seattle and New York City pending final guidance from FEMA.
Esper told reporters he sees the department serving as a temporary gapfiller for the hardest hit cities, with the goal of assisting civilian hospitals while the Army Corps of Engineers works to convert larger spaces into ICU-like facilities.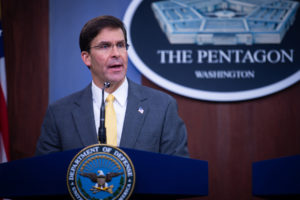 "We have a number of expeditionary field hospitals and medical units on prepare-to-deploy orders that will be moving out this week. The Army Corps of Engineers is also set to begin work to convert hotels, dormitories and other buildings into temporary medical facilities across the country," Esper said. "We clearly can't meet everyone's needs with everything that we have in our inventory, so we rely on FEMA to do the assessment, validation and then the prioritization."
The Pentagon currently has five medical units under prepare-to-deploy orders, and would likely deploy Army field hospitals under FEMA guidance capable of offering 248 beds, hospital equipment and medical professionals for assistance
"I anticipate, this is me now talking out loud, how I foresee our hospitals being used is during the early stages of the virus hitting a city when they're still trying to ramp up capability and bedspace. We can come in for a short period of time, for a few weeks, to provide that capacity until they get either gyms, hotels or college dorms converted, all of those things that the Army Corps of Engineers is working on right now," Esper said. "What we're talking about is the need for thousands of beds. We can provide in the field hospital 248 [beds], and we only have so many field hospitals. So I see us playing this role where we're the gapfiller for a period of weeks with our capabilities."
Army Secretary Ryan McCarthy told reporters on Friday the Army Corps of Engineers is prepared to start working with at least 18 states "provide planning and concept development on behalf of FEMA to increase bedspace and support the augmentation and enhanced medical response" (Defense Daily, March 20).
The Pentagon is also in the process of deploying two Navy hospitals ships to provide additional hospital beds, with the USNS Mercy arriving in Los Angeles later this week and the USNS Comfort in the next couple weeks, according to Esper.
Esper noted that 133 military personnel have currently tested positive for COVID-19, while adding his view that he does not expect the virus to have an impact on the military's overall readiness.
"The United States military remains well-prepared to defend the nation. Although we have scaled back some of our major exercises, routine training continues across all services to ensure our forces maintain a high state of readiness," Esper said. "I am confident that while it may have some impact on readiness, it will not affect our ability to conduct our national security missions both at home and abroad."