Army leadership on Friday detailed the service's response to the coronavirus outbreak including working with industry to maintain production lines and assist with manufacturing medical equipment and mobilizing its Corps of Engineers to begin establishing hospital-like facilities.
Secretary Ryan McCarthy told reporters, as of Thursday, the Army had 45 confirmed coronavirus cases, which includes 21 soldiers, six civilians, eight family members and 10 contractors.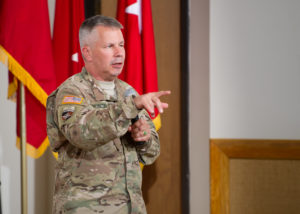 "We are altering exercises, training and our current day-to-day operations to ensure safety for all. To meet the intent of the secretary of defense, the Army is aligned against three lines of effort: prevent, detect and treat," Secretary Ryan McCarthy said during a press briefing.
McCarthy said conversations are ongoing about using the Defense Production Act to task contractors with producing medical supplies.
"There's elements of this where you can turn to a supplier and say fill the orders for the materials associated for another manufacturer to make it at scale. Then there's the more extreme measure of turning to elements of American industry and asking them to make a product. They're going through a lot of the administrative work associated with that and you'll hear a lot more here soon," McCarthy said.
For ongoing production of Army equipment, McCarthy said officials will continue working with industry partners to determine an appropriate path forward.
"We are working with the defense industrial base, as well as Congress on funding, to ensure we're continuing the development of weapon systems that we have on contract. Some states are not going back to work, like Pennsylvania and others. We're working through issues there. And I'll have to work with states, potentially unions. That's work that is going on," McCarthy said.
McCarthy's comments arrive a day after an Army spokesperson told Defense Daily the service does not expect the coronavirus to have an impact on planned contract awards, while also causing several near-term efforts to be rescheduled (Defense Daily, March 19).
The Army Corps of Engineers is also set to start working with at least 18 state governments to "provide planning and concept development on behalf of FEMA to increase bedspace and support the augmentation and enhanced medical response," according to McCarthy.
Lt. Gen. Todd Semonite, head of the Army Corps of Engineers, told reporters his team has established a standard contracting procedure that would allow the service to go in and establish Intensive Care Unit-like rooms at facilities such as hotels and college dorms.
"We need something super simple. So our concept here is a standard design. What we want to do is go into existing facilities primarily, like hotels, college dormitories and perhaps large spaces," Semonite said. "These hotels are empty. The people don't have jobs. We would go in and cut a contract to be able to have the state set up a lease with a particular facility and we would then take the building over in an exceptionally short amount of days and then go in and turn it into an ICU-like facility."
Semonite said the Army is using its current in New York to set the standard for rapid response, with corps of engineers already starting work to turn the Javits Convention Center into a temporary coronavirus treatment zone before expanding to an additional 10 facilities.