The Army said Thursday it does not currently expect the coronavirus outbreak to have an impact on planned contract awards, while also identifying several rescheduled efforts, including delivery of Humvee ambulances and updates to training simulators.
"We do not anticipate that current activities for planning, programming, decision making, or awards of contracts will be impacted by the current COVID-19 restrictions at this time. However, as the community implements the Department's guidance curtailing travel and other movements, we will reschedule some activities," Matthew Ociepka, an Army spokesperson, told Defense Daily
.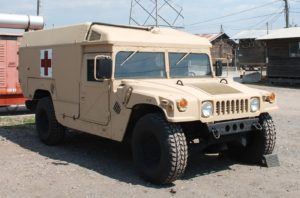 Ociepka did, however, note five ongoing efforts that have been affected as the service deals with travel restrictions due to the coronavirus outbreak.
Regarding the delivery of new HMMWV ambulances to prepositioned stocks, Ociepka said, "the personnel to conduct final training and handover are deferred until a stop move is lifted."
Training simulators at multiple training sites have also not received planned updates due the ongoing travel restrictions.
The Army has previously announced plans to scale down its upcoming Defender 2020 large-scale combat exercise in Europe, while also outright canceling several planned linked exercises (Defense Daily, March 16).
Ociepka told Defense Daily the Army is in the process of identifying future exercises where it could conduct experimentation it had planned for Defender 2020.
Additional impacts include delays to training on some IT systems' software upgrades and deferring quality assurance inspection visits at certain contracted logistics support activities, according to the Army.