The Army will begin accepting Dynetics' [LDOS] prototype deliveries for the new Indirect Fire Protection Capability (IFPC) Increment 2 system by the end of next fiscal year, according to a lead program official, with plans to make a first operational battery of 12 launchers available by late FY '23.
After awarding Dynetics' a $237.4 million rapid prototyping deal for IFPC Inc. last Friday, Army officials told reporters a decision on whether to move ahead with a production contract covering 400 launchers is likely to be made in 2023.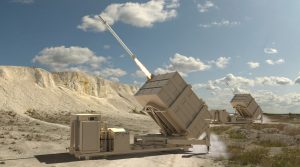 Maj. Gen. Robert Rasch, program executive officer for missiles, said Dynetics' Enduring Shield proposal for IFPC Inc. 2 offered the "most advantageous and best value to the government," as the Army looks to field a new ground-based mobile system capable of defeating cruise missile and drone threats.
Dynetics beat out of a team of Israel's Rafael and Raytheon Technologies [RTX] offering a version of the Iron Dome system, after both competitors participated in a live-fire "shoot-off" event earlier this year, with the Leidos-owned company now tasked with delivering 16 launchers and 60 interceptors under the IFPC Inc. 2 prototype deal (Defense Daily, Sept. 24).
The first IFPC Inc. 2 combat capability battery will consist of 12 launchers, according to Rasch, with the remaining prototype system to be used as test assets to support developmental and qualification testing through FY '23.
Rasch reiterated a primary objective for the Army's "shoot-off" event was to assess how the offerings could integrate with the the future Integrated Battle Command System, being developed by Northrop Grumman [NOC], as the service looks to build out a new air and missile defense control network capable of bringing together any sensor to any shooter.
"It was about demonstrating that kill chain from a sensor, in this case a Sentinel Radar, providing fire control-quality data to [IBCS], which then creates a fire control engagement for the launcher and the interceptor to engage on. That's the primary piece of data that we collected. That's what we provided back to the industry partners so that they could then write their final proposals," Rasch said.
Rasch also said the Army does not consider previous thermal management issues with Raytheon's AIM-9X missile, the interceptor Dynetics selected as part of its offering, adding that any earlier challenges have been addressed.
"We're certainly aware of some of the early issues we had with that interceptor based upon thermal management. I would just say, through the proposal and through the source selection evaluation, they believe that thermal management risk had been properly mitigated by the Dynetics team and that we have enough testing in place, through the qualification, to ensure that is not an issue," Rasch said.