The Army has awarded Leidos' [LDOS] Dynetics a $237.4 million deal to build prototypes for its program to field a new ground-based mobile system capable of defeating cruise missile and drone threats.
Dynetics' Enduring Shield platform has beaten out a team of Israel's Rafael and Raytheon Technologies [RTX], which offered a version of the Iron Dome system, for the enduring Indirect Fire Protection Capability (IFPC) Increment 2 contract, after both competitors participated in a live-fire "shoot-off" event earlier this year.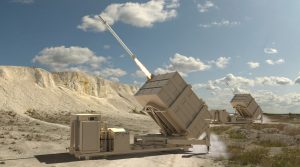 Under the prototype contract, Dynetics will deliver 16 launchers and 60 interceptors with work to be completed by March 2024.
In June, Dynetics told reporters Enduring Shield was based on its work with the previous Multi-Mission Launcher (MML) development effort (Defense Daily, June 4). 
"Our offering is not MML but it was derived from the heritage and the things that we've learned from MML. As an example, we've gone through and redesigned that system to attain cost efficiencies, make it more producible, making it less complex. Those are the things that you're going to need when you get into a program where you're going to have to build 16 launchers in a relatively short period of time," Ronnie Chronister, Dynetics' vice president for weapons technology and manufacturing, said at the time.