Textron Systems [TXT] announced Thursday the company has received a five-year deal from the Army worth up to $607 million to upgrade its Shadow drones to the modernized Block III configuration.
The deal follows the successful completion of the Army's follow-on operational test and evaluation (FOT&E) for the Shadow Block III Tactical UAS (TUAS) last fall.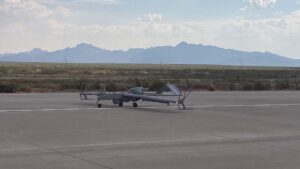 "We are excited to continue our partnership with the U.S. Army and to bring new capabilities to the Shadow TUAS fleet," Wayne Prender, senior vice president of Textron Systems, said in a statement.
Textron is expected to start retrofitting the drones to the Block III configuration "immediately," with the new contract also covering "logistics support, field services, and engineering support."
Company officials told reporters last October the FOT&E event included showcasing Shadow Block III's new propulsion system with increased horsepower, manned-unmanned teaming capabilities and successful laser designation events with Hellfire missiles (Defense Daily, Oct. 13).
The upgraded capabilities of the Shadow Block III drone are expected to keep the system in service "well into the 2030s," Textron officials have said previously.
The Army is currently working through the Future Tactical Unmanned Aircraft System (FTUAS) program to find a Shadow drone replacement, with plans to finalize requirements in the coming weeks following a year-long evaluation of four potential offerings (Defense Daily, March 2).
Textron is offering its AAI Corp.'s Aerosonde Hybrid Quad UAS for FTUAS, which the company has said is "by far the most mature system of any of the four systems that are being evaluated at this point."