Army officials said Tuesday they were impressed by the results of the ''rodeo' event to assess Future Tactical Unmanned Aircraft System (FTUAS) offerings, building confidence as the service gets set to formalize requirements in the coming weeks for the Shadow drone replacement program.
The four FTUAS offerings participating in the demo at Ft. Benning in Georgia received high marks for operating in inclement weather, demonstrating runway-independence and vertical takeoff and landing, their "significantly quieter" acoustic signature and the ability to command and control on the move, according to the officials.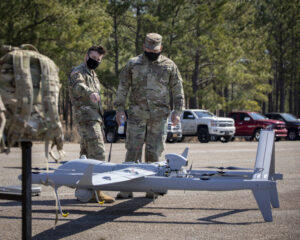 "We saw a very agile system from every performer. And we saw the soldiers uniformly fall in love with this capability and want to keep it because, again, it is such a transformational capability," Brig. Gen, Walter Rugen, director of the Future Vertical Lift Cross-Functional Team, told reporters. "Shadow could never fly in this type of moisture, couldn't even come close. All of the offerings, as very new form factors, were able to fly in significant wet weather, significant rain."
The platforms at the FTUAS rodeo were Martin UAV's V-Bat, Textron's [TXT] AAI Corp.'s Aersonde, L3Harris' [LHX] FVR-90, and Aerovironment's Arcturus JUMP 20, all of which have been involved in operational unit evaluations over the last year to inform requirements.
"The demand signal from the field is significant. It's not something that this team can ignore. The field is clamoring for this capability. I'm not overstating it, but the Army is looking for the opportunity to get this into the hands of soldiers rapidly," Rugen said.
Officials noted the FTUAS offerings have checked the box for transportability via a CH-47 Chinook helicopter as well as demonstrating the ability to operate with just two to three soldiers from a tri-screen laptop, whereas Shadow requires a ground control station, launchers and a runway for recovery.
Brig. Gen. Robert Barrie, program executive officer for aviation, noted the acquisition strategy has yet to be finalized but the Army is focused on a plan that allows for rapid delivery as officials get set to finalize requirements.
"What we will commit to is that we will leverage, to the greatest extent possible and in the same way we have thus far, the acquisition authorities that we have in the flexible manner to rapidly deliver this capability by whatever means we can," Barrie said.
Barrie noted that the plan for FTUAS is a full and open competition, while noting that the four participants in the program over the last year will have a "firmer understanding" of the Army arrived at its final requirements.