Anduril Industries said Tuesday it will provide the hardware system design for Palantir's [PLTR] work developing the Army's Tactical Intelligence Targeting Access Node (TITAN) system.
Under a subcontract award, Anduril said it is tasked with the "design, development, testing, and delivery of the physical infrastructure for the TITAN prototype."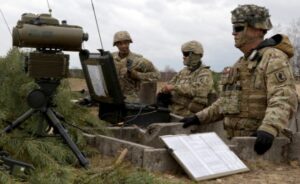 "Anduril is pleased to partner with Palantir to design and demonstrate the ground station prototype solution for the Army's TITAN program," Matthew Steckman, the defense technology firm's chief revenue officer, said in a statement. "Anduril is uniquely qualified to build hardware platforms with the explicit intent of enabling complex software integrations. This is a great example of innovative companies bringing critical modern solutions and emerging technology capabilities to the Department of Defense."
In January, the Army announced a pair of awards to Palantir and Raytheon to support development and software maturation of the future TITAN intelligence ground system (Defense Daily, Jan. 11).
Palantir and Raytheon [RTN] are set to work on system-level design and integration over the next year, before the Army downselects to one vendor for the program's second phase with plans for prototype demonstrations in 2022 and 2023.
TITAN is intended to be a scalable and expeditionary intelligence ground station capable of providing fused sensor data to weapons systems at the battalion level.
"A software-centric approach is critical to the development of the correct hardware platform, and Anduril will emphasize modularity, manageability and performance. Anduril's extensive experience deploying and updating software on organic hardware systems in remote environments with limited support capability will play a significant role in the design and development of the physical infrastructure solution," Anduril wrote in a statement.