The Army has awarded a pair of deals to Palantir Technologies [PLTR] and Raytheon Intelligence & Space [RTN] to support development and software maturation for the Tactical Intelligence Targeting Access Node (TITAN) system.
Each company received Other Transaction Authority agreements worth $8.5. million to work over the next year on system-level design and integration for the future intelligence ground station, before selecting one vendor to move onto the program's second phase.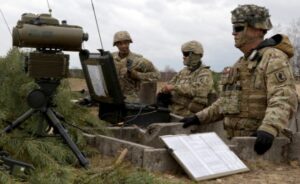 "TITAN will be a crucial component to enable deep sensing and shorten the Sensor-to Shooter loop. TITAN will have the ability to access a federation of organic Aerial and Terrestrial sensors as well as enable assured access to National, Commercial and Tactical Space Layer sensors to identify and deliver targetable data directly to Fires networks and support Long Range Precision Fires (LRPF)," the Army wrote in a statement.
The TITAN program aims to build scalable and expeditionary intelligence ground stations capable of providing fused sensor data to weapons systems at the battalion level, with prototype demonstrations planned for 2022 and 2023.
In September, the Army selected Northrop Grumman [NOC] to build two prototype, semi-autonomous ground stations for TITAN (Defense Daily, Sept. 1). 
Palantir and Raytheon's work during this phase will include design reviews, software demonstrations and a series of soldier evaluations.
TITAN is expected to be built with a modular, open-system architecture to enable advanced "analytic tools, including advanced artificial intelligence and machine learning, to assist soldiers and analysts managing large volumes of sensor data at the speed of demand in multi-domain operations and across the continuum of competition and conflict," according to the Army. 
At the conclusion of the first phase, either Palantir or Raytheon will be selected to work on complete system prototyping.
A third phase will then focus on refining prototype capabilities by echelon and fourth phase will work to "develop the system for integration of future sensors, technology advancements, and option to build additional assets."