The Army has opened its search for new mission systems to be integrated on its Future Attack Reconnaissance Aircraft (FARA), calling for industry input on potential offerings for sensors, countermeasure capabilities and a 20mm weapon system.
The Request for Information looks to solicit insight on systems that may be integrated on FARA platforms during the upcoming engineering and manufacturing development (EMD) phase, with a goal of informing risk reduction and aircraft configuration decisions for future production.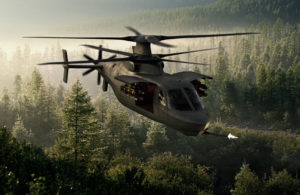 The new notice, released on Monday, follows the Army's decision in March to select Sikorsky [LMT] and Bell [TXT] as the finalists to build prototypes for future scout attack helicopter program (Defense Daily, March 25).
Army officials wrote they are particularly interested in mission system solutions that create minimal effect on the aircraft's drag, utilize hardware agnostic software, adhere to open architecture standards and have potential to also be integrated on the Future Long Range Assault Aircraft.
For a FARA weapon system, the Army is looking for a fully-integrated 20mm cannon with a minimum requirement for 180-degree coverage and 60-degree elevation coverage.
Survivability systems desired for FARA include tools to detect radio frequency (RF), infrared and laser threats, missile warning systems, hostile fire systems capable of ballistic fire detection, and electronic warfare capabilities to include RF jamming systems.
"The FARA Program Manager (PM) is interested in a comprehensive Aircraft Survivability Equipment suite that minimizes weight, can be fused with aircraft navigation and pilotage systems, and fully integrated with and conformant to the aircraft open architecture," officials wrote.
For sensors, the Army is seeking input on capabilities that offer 'ground targeting at close, mid, and extended ranges to maximize target acquisition capabilities and support all munition types, low-light and wire/obstacle detection, radar detection, radar interferometry, weather detection, terrain avoidance, and situational awareness."
"All sensor data should be capable of internal transmission to pilot head-up displays and multiple cockpit displays and external transmission to other systems in the operational environment," the Army wrote.
The Army detailed its requirements for communications suites, navigation tools to assist with autonomy efforts, creating a 'digital backbone' for the aircraft. and also meet data fusion requirements.
"The FARA PM is interested in a comprehensive suite that minimizes weight, simplifies integration for future modifications/upgrades, and is fully integrated with and conformant to the aircraft open system architecture. [We're] also interested in solutions and software applications that support supervised autonomy/optionally-manned flight," the Army wrote.
Interested vendors are able to submit details of their capabilities for multiple mission systems, with responses due by May 15.