The Army will roll out the software development kit later this year for its new Adaptive Squad Architecture effort, an official said Thursday, with the goal of building in non-traditional and small business partners' "app-like capabilities" to optimize future soldier performance.
Maj. Gen. Anthony Potts, the Program Executive Officer-Soldier, compared the new Adaptive Squad Architecture to a smartphone and said the new toolkit will allow for innovative companies that don't otherwise develop hardware to present ideas for integration onto the Army-owned architecture.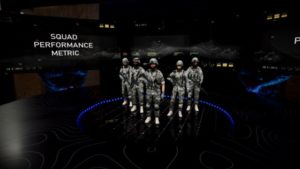 "What's important with this software development toolkit is that if you're a developer you understand how to write software that can integrate into that system, work on that operating system within that form factor and you know how to manipulate the peripherals," Potts said during a discussion at the virtual AUSA Global Force Next conference. "You can be at a small business and you don't have to build all the infrastructure and the architecture. You simply have to know how to write software to provide a capability that we haven't thought about before and that provides value to the user."
The Army first detailed Adaptive Squad Architecture in 2019 as allowing future soldiers to function as an "integrated weapons platform," with plans to cut cables, reduce size and weight and streamline power sources across individual soldier components (Defense Daily, Aug. 21 2019).
"That architecture is what allows us to soldier as an integrated weapons platform and it allows us to treat our squad as an integrated combat platform," Potts said Thursday. "We're working out the infrastructure and the architecture. That architecture's going to be a government-owned architecture. We are working on our software development toolkit. We'll have our first iteration out this year."
As the service gets set to release the software development toolkit, the Army is planning to release problem statements for which industry can offer applications and tools that will work on top of the new architecture.
Potts said industry partners with ideas for applications may be asked to participate in experimentation efforts for the architecture at the Army's new Soldier Integration Facility at Fort Belvoir in Virginia.
"If somebody's got a great idea, bring it in to us and we will go see if it's got value for our soldiers," Potts said.